Dir: Vinko Brešan. Croatia-Serbia. 2012. 86mins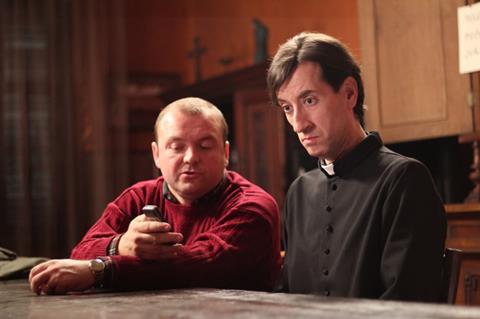 A colourful, fun and breezy film about sex and religion, Vinko Brešan's The Priest's Children is a comedy charmer that deserves to find a welcoming audience, though perhaps not within the Catholic Church which is engagingly lampooned to good effect. The film screened at the Karlovy Vary International Film Festival.
An engagingly broad and breezy comedy The Priest's Children is a genuine easy-going filmic pleasure.
Though sex is at the heart of the film, there is nothing explicit about the going-on, with Brešan making great use of his picturesque Dalmatian island backdrop as he weaves together a story – based on Mate Matišić's controversial Croatian play – of sexual enthusiasm and religious good intention.
Young Catholic priest Fabian (Krešimir Mikić) is sent to a small island to take over from elderly priest Jakov (Zdenko Botic) but the old man is so popular that locals lobby to have him stay on the island and take mass occasionally. Fabian is bemused by the lack of births on the island, until he discovers there is a roaring trade in under-the-counter condoms.
Local tobacconist Petar (Nikša Butijer) admits to Fabian in confession that he is one supplying the condoms, and Fabian convinces him that it would be God's will to start puncturing each condom packet. Soon they are joined by local pharmacist Marin (Drazen Kuhn), who secretly starts replacing birth control pills with vitamins, and the threesome start trying to work out the sexual liaisons happening on the island.
Before long the birthrate – and marriage rate – on the island start increasing, with foreign TV crews even showing an interest on this island of love. But when his messing around with condoms habit reaches the local Bishop things get more than a little complex as Fabian has to try and explain his notion of radical Christianity.
An engagingly broad and breezy comedy The Priest's Children is a genuine easy-going filmic pleasure, delightfully performed, beautifully shot and relishing its sense of playful irony.
Production companies: Interfilm Produkcija, Zillion Film
International sales: WIDE Management, www.widemanagement.com
Producer: Ivan Maloča
Screenplay: Mate Matišić, based on his play
Cinematography: Mirko Pivčević
Editor: Sandra Botica Brešan
Production designer: Damir Gabelica
Music: Mate Matišić
Main cast: Krešimir Mikić, Nikša Butijer, Marija Škaričić, Drazen Kuhn, Jadranka Dokic, Lazar Ristovski, Goran Bogdan