Dir/scr: Gareth Evans. Indonesia. 2013. 148mins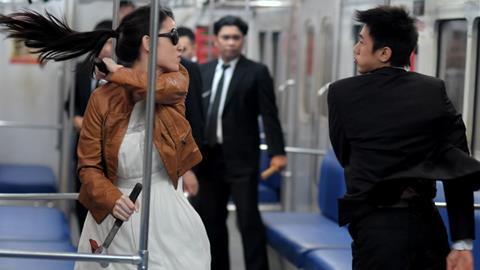 That rare sequel that expands the scope of its predecessor to produce something grander, richer and far more rewarding, The Raid 2 elevates the franchise from a very enjoyable close-quarters action extravaganza into a full-blown crime epic. The martial-arts set pieces remain extraordinary, but writer-director Gareth Evans has dreamed up a story to go along with them that, while hardly ingenious, puts enough muscle on the bone so that this exhilarating follow-up film is gripping even when the fists aren't flying.
This new movie is just as brutal and bloody as the first, the shock of the pummelling violence eliciting a mixture of gasps and laughs because of Evans' over-the-top audacity.
Making its debut at the Sundance Film Festival, The Raid 2 is set to be released by Sony Pictures Classics in the US at the end of March. Fans of the first instalment, The Raid: Redemption (as it was titled in the US), may be slightly disappointed that the sequel doesn't bring back the original's cunning Die Hard-like structure. But strong reviews will be catnip to genre aficionados, and glowing word of mouth about the numerous exemplary action scenes all but guarantees that The Raid 2 will be a cult hit like The Raid was.
Taking place right after the original, The Raid 2 finds beleaguered rookie cop Rama (Iko Uwais) barely having time to recover from the events of the first film, where he took down a whole apartment complex of bad guys, before he's given his next assignment. He must go undercover in a high-security prison and befriend Uco (Arifin Putra), the hot-headed son of a feared crime boss named Bangun (Tio Pakusadewo). After two years in prison and earning the boss's trust, Rama is set free thanks to Bangun's connections and invited to join his criminal underworld. Rama proves a valuable ally to Bangun, but the older man's empire is threatened by Uco's impatience to assume power, provoking him to join forces with an ambitious (and ruthless) up-and-coming rival, Bejo (Alex Abbad).
The first film, also written and directed by Evans, went a long way on the strength of its hand-to-hand fight choreography, resulting in a giddily hyper-violent movie in which one man, Rama, squared off against an army, breaking bones and slitting throats in incredibly colourful ways. The Raid 2 doesn't have as slick or meaty a hook as the original, but that hardly matters when Evans has (consciously or not) addressed the chief criticism levelled against the original movie, finding a way to produce some memorable characters and meaningful stakes so that the drama isn't entirely dependent on a videogame-like escalation of imposing foes that Rama must defeat. (This is especially important since, at two-and-a-half hours, The Raid 2 is about 50 minutes longer than The Raid.)
Interestingly, this opening-up of the Raid universe doesn't mean that Evans significantly expands Rama's backstory or explores his personality. If anything, Rama is even steelier in The Raid 2, his separation from his family and the sadness over the loss of his brother admittedly feeble attempts to humanize this flinty lone-wolf hero. But as played by Uwais, Rama isn't meant to have dimensions: He's supposed to be a stoically righteous champion for good, and the actor imbues the character with unyielding fearlessness and acrobatic action moves.
Surrounding Rama is a slew of new villains who are far more defined than the original's cartoonish nemeses. Starting with the contentious father-son dynamic between Bangun and Uco, The Raid 2 drops Rama into a world of duplicitous criminals in which there really is no such thing as loyalty. Evans (who also edited the movie) swiftly but sharply documents the shifting allegiances that take place, all of which put Rama's cover in danger. (Evans even manages to make the familiar crime-movie trope of Rama needing to protect his true identity riveting, demonstrating that our hero isn't just a stunning fighter but also a quick thinker when the moment demands it.)
Of course, the twists and turns of these criminals' loyalty wouldn't mean much without the inspired action sequences that give The Raid 2 its regular bursts of adrenaline. Aided by a kinetic, propulsive score from Joseph Trapanese, Aria Prayogi and Fajar Yuskemal, The Raid 2 offers a series of utterly bravura sequences, upending our notions of what constitutes a great car chase or a hand-to-hand fight scene inside a moving subway car or a nondescript hallway.
This new movie is just as brutal and bloody as the first, the shock of the pummelling violence eliciting a mixture of gasps and laughs because of Evans' over-the-top audacity. (One of Rama's adversaries actually uses a bat and a baseball to kill his prey, a ludicrous notion that, within the context of this proudly outlandish crime film, actually feels threatening.) Evans exhibits some of the same blend of high/low artistry that we see in the films of Quentin Tarantino and Nicolas Winding Refn—they take their work very seriously, but there remains a fan-boy gleefulness in the margins—and The Raid 2 is so thrilling in part because it so beautifully walks the line between ponderous grandeur and freewheeling, boyish mayhem.
Along with Uwais, the rest of the film's cast leans in to their monochromatic roles with great authority. Putra in particular proves to be a wonderfully nefarious cretin, his good looks shielding his soullessness. But even the supporting parts have more heft than one might expect from a supposed genre offering—another sign of Evans' commitment to make a sequel that isn't just bigger but demonstrably better.
Production companies: Stage 6, XYZ Films, Merantau Films
US distribution: Sony Pictures Classics, www.sonyclassics.com
International sales: XYZ Films, www.xyzfilms.com
Producers: Ario Sagantoro, Nate Bolotin, Aram Tertzakian
Executive producers: Rangga Maya Barack-Evans, Irwan D. Mussry, Nick Spicer, Todd Brown
Cinematography: Matt Flannery, Dimas Imam Subhono
Editors: Gareth Evans, Andi Novianto
Music: Joseph Trapanese, Aria Prayogi, Fajar Yuskemal
Website: www.facebook.com/TheRaid2US
Main cast: Iko Uwais, Yayan Ruhian, Arifin Putra, Oka Antara, Tio Pakusadewo, Alex Abbad