Dir/scr: Gareth Huw Evans. Indonesia. 2011. 100mins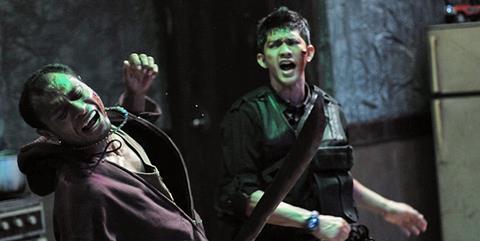 Indonesian action flick The Raid is a bone-crunching bit of brutally cool entertainment that really delivers in terms of all-out action thrills. Martial arts action films tend to be niche films in terms of their loyal fan-base, but this stylish and smart film could well find an audience savvy to its well-staged and extremely bloody mayhem.
Some awesome martial arts action moments.
Written and directed by Welsh filmmaker Gareth Huw Evans - who made the successful martial arts film Merantau in 2009 - The Raid features extensive (and skilful) use of the traditional Indonesian combat style of 'silat', extensively featured in the more traditional martial arts film Merantau.
For The Raid Evans opts for a contemporary action tale that blends Assault On Precinct 13, Die Hard and the 2002 French actioner Wasp's Nest (Nid de guêpes). It stars Iko Uwais, who starred in Merantau, as a young cop who has to use all his skills to take on a horde of machete-wielding bad guys.
Uwais plays Rama, a young rookie cop who is part of an SWAT team sent to clean out a rundown apartment block in Jakarta ruled by Tama (Ray Sahetapy), a ruthless drug lord who uses the tenement to shelter junkies as well as his enforcers, killers and drugs manufacturers, watching over the building via closed circuit television.
But Tama is expecting the SWAT team and his heavily armed gang ambush the police, and after killing most of them in a gun battle set out tracking the injured survivors through the building. Rama finds himself cut off from is team, and dragging a wounded colleague he uses his spectacular martial arts skills to take out the brutal enforcers.
What follows is a feast of martial arts action. If the first part of the film feels like a modern US cops-in-peril action movie then the second half is a resolutely martial arts fight fest. Youthful Iko Uwais is a genial and unassuming presence, but when he is called on to fight he is nothing short of spectacular.
Gareth Huw Evans stages his film with a lot of style and precision. The gunfight sequences are hectic and appropriately messy, and he moves the camera intelligently to emphasise the visceral action and clearly also works with a top action choreography team and stunt performers to offer-up some awesome martial arts action moments.
Production company: PT Merantau Films/XYZ Films
International sales: Celluloid Nightmares, www.celluloid-dreams.com/nightmares
Producer: Ario Sagantoro
Executive producer: Maya Barack-Evans
Cinematography: Matt Flannery
Editor: Gareth Huw Evans
Production designer: Moti D. Setyanto
Music: Fajar Yuskemal, Aria Prayogi
Main cast: Iko Uwais, Yayan Ruhian, Joe Taslim, Doni Alamsyah, Ray Sahetapy