Dir: James McTeigue. US. 2012. 110mins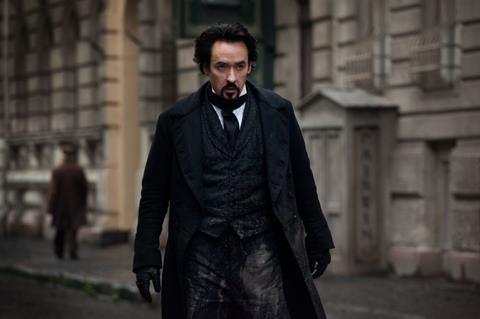 A glossy attempt to blend the gothic and macabre with serial killer police procedural, The Raven puts horror writer Edgar Allan Poe (played by John Cusack) in the middle of a crime plot driven by gruesome crimes of his own imagination but fails to deliver a film with imagination or style, let alone the chills the subject matter demands.
As a serial killer mystery story, The Raven never really holds together.
The film opens in the UK today – though has been pushed back to an April 27 release date in the US – and while John Cusack's energetic and nicely mannered performance helps give the film a certain momentum, director James McTeigue (who made V For Vendetta) favours bombastic direction and an unsuitable rock soundtrack though is not aided by a rather unfocussed script that seems to be aiming for a period version of Se7en but feels more like 'CSI Baltimore' circa 1849.
The casting of Cusack may intrigue audiences on the look-out for a little post-The Woman In Black gothic horror, but much will depend on good marketing support and strong genre-fan word-of-mouth.
The premise of the film is to provide a fictional answer to that happened to Poe in the last few days of his life. A series of biographies has tried to fill in the gaps, and in the script by Hannah Shakespeare and Ben Livingston the answer is that he filled his final days helping investigate a series of rather nasty crimes based on his own stories.
On one dark and gloomy night in Baltimore in 1849, local police investigate the grisly murder of a women and her daughter, though only Detective Emmett Fields (Luke Evans) recognises that the crime scene is from Edgar Allan Poe's Murders In The Rue Morgue.
Meanwhile Poe himself – Cusack, appropriately gaunt, bearded and intense – is intent on cadging a drink at a local tavern. He is impoverished, but determined to marry lovely Emily Hamilton (Alice Eve), much to the disapproval of her wealthy father Col. Charles Hamilton (Brendan Gleeson). Fields initially brings in Poe as a suspect, but when a critic rival of Poe's is killed – though the mechanism of a slowly-descending swinging pendulum blade, from Poe's story The Pit And The Pendulum – the pair join forces to try and solve the series of murders.
When Emily is kidnapped, Poe and Fields finds themselves in a race against time to try and save her, with Poe in a final showdown against his 'greatest fan', a killer who emulates his hero's gothic masterpieces.
As a serial killer mystery story, The Raven never really holds together and while the murder scenes are deftly staged the film lacks real tension or chills. John Cusack looks the part and has just the right amount of haunted intelligence to convince as the poet/writer/critic, while Luke Evans (from The Three Musketeers and Tamara Drewe) has the heroic good looks to work well as the policeman ahead of his times. Sadly Alice Eve is woefully underused – and poorly written – as the beauty to be loved/kidnapped and Brendan Gleeson (a forceful screen presence) is there purely for his top-notch blustering skills.
Production companies: Intrepid Pictures, FilmNation Entertainment, Galavis Film, Pioneer Pictures, Relativity Media
International sales: FilmNation Entertainment, www.wearefilmnation.com
Producers: Marc D Evans, Trevor Macy, Aaron Ryder
Executive producers: Glen Basner, Jesus Martinez Asencio, James D Stern
Screenplay: Ben Livingston, Hannah Shakespeare
Cinematography: Danny Ruhlmann
Editor: Niven Howie
Production designer: Roger Ford
Music: Lucas Vidal
Website: www.theravenmovie.com
Main cast: John Cusack, Alice Eve, Luke Evans, Brendan Coyle, Brendan Gleeson, Pam Ferris, Oliver Jackson-Cohen