Dir: Guido van Driel. Netherlands. 2013. 90mins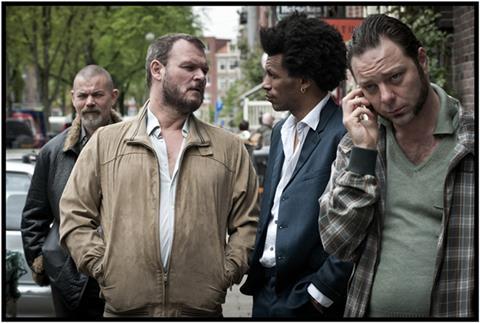 Brutally violent, darkly funny and cinematically inventive, the snappily titled The Resurrection Of A Bastard (De Wederopstanding van een Klootzak), which opened this year's International Film Festival Rotterdam, has the oddball quirks and genre style to find an audience intrigued by its Tarantino-style sensibilities and impressive performances.
Yorick van Wageningen is splendid as Ronnie, brimming with bile and anger as 'old Ronnie' but oddly gentle and almost spiritual as 'new Ronnie'.
Based on director Guido van Driel's 2004 graphic novel Om mekaar in Dokkum, the film is propelled forward by a fiendishly larger-than-life performance by Yorick van Wageningen as the outrageously brutal Amsterdam gangster Ronnie who goes through something of a resurrection during the course of the story. Some of the jokes and storyline elements may be lost on non-Dutch audiences, but the film is made with real verve, and could well intrigue discerning buyers.
At the start of the film Ronnie is being driven by his bodyguard/chauffeur Janus (who sports Wolverine-style sideburns) to the Dutch fortified town of Dokkum, in the province of Friesland. He is searching for a man with Dokkum's coat of arms tattooed on his wrist…but the why is only revealed later, with the films cleverly using flashbacks to reveal Ronnie's character and just what happened to him.
On first glance, Ronnie – despite his hefty demeanour – doesn't seem so bad. But something has happened to him (hence the neck-brace), and as Janus (Juda Goslinga) says: "He's totally. Just as Bruce Willis was totally different in The Sixth Sense from in Die Hard. He's just not the old Ronnie anymore!"
But the film then flashes back to the 'old Ronnie'. A man who used a vacuum cleaner to take out the eye of a dealer who owed money, and who killed a young woman who was just protecting her own young son. Mind you, even more psychotic and violent is his boss James Joyce (played brilliantly by the late Jeroen Willems), who speaks to him in loopily lyrical English and out of nowhere – in a deliciously weird, almost David Lynch-like scene – shoots a bag that contained some live animal. It is never clear what happened…simply that we would kill randomly.
The film interlinks the violent antics of Ronnie with the story of Eduardo (Goua Robert Grovogui ), a young asylum seeker from Angola who lives at the refugee centre in Dokkum and who works at a local farm. He is unable to talk about his experiences, but forms a gentle friendship with the farmer's grandson.
The revelation of how and why Ronnie suffers his injury comes about in a beautifully staged sequence as Ronnie and his friends go to a plush 'white' party (everyone is dressed in white) where he is followed and shot by a strange figure wearing a white sack mask. In one dazzlingly well shot scene, as he lies in a pool of blood on the floor, he gazes up through the basement ceiling, sees Janus dancing and then the camera spirals to the ceiling and watches the pulsating dance-floor below.
Yorick van Wageningen (who appeared in The Chronicles Of Riddick and The Girl With The Dragon Tattoo) is splendid as Ronnie, brimming with bile and anger as 'old Ronnie' but oddly gentle and almost spiritual as 'new Ronnie', and the scenes of him at the small hotel in Dokkum where he bonds with the genial landlady are a lovely contrast to his man-man antics that punctuate the film.
Debut director Guido van Driel shows a sure hand in terms of structure and handling his actors, and punctuates his film with more than a few real visual flourishes the hint at a positive future in film-making.
Production company/sales: Topkapi Films, www.topkapifilms.nl
Producer: Frans van Gestel
Screenplay: Guido van Driel, Bas Blokker, based on the graphic novel by Guido van Driel
Cinematography: Lennert Hillege
Editor: Alain Desseuvage
Production designer: Floris Vos
Music: Peter van Laerhoven
Website: www.dewederopstandingvaneenklootzak.nl
Main cast: Yorick van Wageningen, Juda Goslinga, Goua Robert Grovogui, Jeroen Williams, Rian Gerritsen, Rene Groothof, Leny Breederveld