Dir: Mikael Håfström. US. 2011. 113mins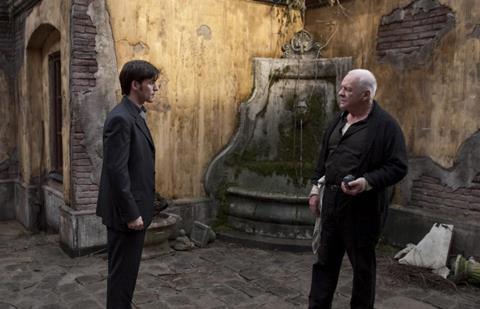 More interested in theology than gut-churning effects, The Rite is a creepy exorcism thriller elevated a bit above the norm for that reliable genre by a classy look and the gravitas of star Anthony Hopkins. While younger horror fans might be disappointed by the relative lack of demonic action, the understated tone could work for older filmgoers and perhaps even the faith-based audience.
Swedish director Mikael Håfström injects some wit into early scenes.
When it opens the PG-13-rated New Line production in the US on Jan 28, worldwide distributor Warner will be looking to at least match the mid-level box office of such chillers as last summer's The Last Exorcism. Hopkins' name will help sell extra tickets when the film has its international roll out through February and March.

The story - "inspired by true events" reported in Matt Baglio's popular book The Rite: The Making of a Modern Exorcist - follows doubt-plagued American seminary student Michael Kovak (Irish stage and TV actor Colin O'Donoghue) when he is sent to the Vatican to study the practice of exorcism. There, the sceptical Michael is apprenticed to unorthodox but long experienced exorcist Father Lucas (Hopkins) and befriended by journalist Angeline (City of God's Alice Braga).

As he did with his hit Stephen King adaptation 1408, Swedish director Mikael Håfström injects some wit into early scenes ("What did you expect - spinning heads, pea soup?" says Father Lucas to his apprentice after one uneventful exorcism session). As the mood darkens there are a few effective jolts but nothing too overtly scary.

Michael's reluctance to believe in demonic possession opens up some interesting plot possibilities but the film eventually works its way to a fairly conventional supernatural climax with Hopkins briefly in Hannibal Lecter mode.

In his feature debut, O'Donoghue (best known for TV series The Tudors) has an appealing presence, though he's sometimes overpowered by Hopkins' calm intensity.

Production companies: New Line Cinema, Contrafilm
Worldwide distributor: Warner Bros
Producers: Beau Flynn, Tripp Vinson
Executive producers: Richard Brener, Merideth Finn, Robert Bernacchi
Screenplay: Michael Petroni, suggested by the book by Matt Baglio
Cinematography: Ben Davis
Production designer: Andrew Laws
Editor: David Rosenbloom
Costume designer: Carlo Poggioli
Music: Alex Heffes
Website: www.whatdoyoubelieve.warnerbros.com
Main cast: Anthony Hopkins, Colin O'Donoghue, Alice Braga, Toby Jones, Ciarán Hinds, Rutger Hauer