Dir: David Michod. Australia-US. 2014. 102mins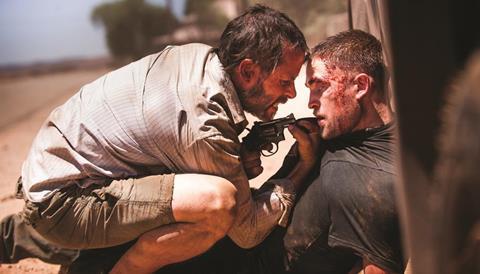 Australian writer-director David Michôd proved himself a cool-headed specialist in man's inhumanity to man in his 2010 debut, the gangster story Animal Kingdom. If that film's criminal clan seemed cold-bloodedly nasty, their behaviour looks like mere petulance compared to the ruthless bloodletting in Michôd's follow-up The Rover. That's as it should be, given that this new film envisages a post-collapse outback Australia in which survival is all, and life is cheaper than the bullets that can be routinely bought at gas stations. Michôd and his collaborators – including Joel Edgerton, not acting here but co-writing a project originally conceived in 2007 – evoke a coherently brutal and blasted world with echoes of the more desolate breed of spaghetti Westerns, plus inevitable overtones of Mad Max, given the road movie premise.
But the film's weak link is Pattinson, not because it's a bad performance, rather it is a familiar one, a mumbling hick who seems to be channeling the mannerisms of Billy Bob Thornton in Sling Blade.
But overall this is a disappointing film that loses dramatic momentum after an arrestingly grim first act. The presence of Robert Pattinson, in an uncharacteristically non-heroic and even awkward guise, alongside a magnetic Guy Pearce, will give the film some solid box-appeal, but The Rover is at best a consolidation rather than a real advance for Michôd.
Strikingly shot in Southern Australia by Natasha Braier, in the spirit of Sergio Leone's dustier desert imaginings, the film is set, an opening title tells us, 'ten years after the Collapse', somewhere in the back of beyond in a desolate, largely flat Australian landscape. A man named Eric (Guy Pearce) is sitting ruefully in a roadside diner when three passing desperadoes headed by an American named Henry (Scoot McNairy) make off with Eric's car. Eric takes off in hot pursuit, and an icy face-off ensues between the thieves and this taciturn loner who is more than able to stare them down.
Eric wants his car back at all costs, and isn't too fussy about chalking up a few casualties in the process. He ends up in charge of Henry's vulnerable wounded brother Rey (Pattinson), and having got Rey's wounds tended to by a female doctor (Susan Prior), Eric takes him in search of Henry. Why he wants his car so badly we only learn at the end, and unfortunately, when that reason is revealed, in the film's final shots, it comes across like the punchline to a shaggy dog story – and I shouldn't say more than that, except to note that viewers may well feel cheated to have come so far for such a bathetic (or at least bathetically handled) payoff.
Eric, it turns out, has a back story that belies his hard demeanour as a cold-eyed wraith of the road. Pearce's leathery features, scraggy hair and basilisk gaze do make him seem alarmingly like a man who's already dead – which, in the samurai sense, he effectively is. The film impressively evokes a world in which people live in a post-human amoral condition, as witness a wonderfully chilling encounter between Eric and a suavely unflappable elderly woman (an unnerving Gillian Jones) who tries to pimp her grandson to him.
But the film's weak link is Pattinson, not because it's a bad performance, rather it is a familiar one, a mumbling hick who seems to be channeling the mannerisms of Billy Bob Thornton in Sling Blade, but who doesn't quite belong in this imaginative universe (despite exposition of how people from the entire world, including the US, have ended up in this Australia).
When, for much of the central section, the film becomes effectively a moody two-header for Pattinson and Pearce, The Rover essentially flatlines. Still, there's much here to admire, not least the casting of some formidable plug-uglies, the general grunginess and grubbiness created by designer Jo Ford, and the ominous metallic clang of Anthony Partos's unusual score.
Production companies: Porchlight Films, Lava Bear Films
International sales: Filmnation Entertainment, www.filmnation.com
Producers: Liz Watts, David Linde, David Michôd
Screenplay: David Michod, Joel Edgerton
Cinematography: Natasha Braier
Editor: Peter Sciberras
Production designer: Jo Ford
Music: Antony Partos
Main cast: Guy Pearce, Robert Pattinson, Scoot McNairy, David Field