Dirs: Wim Wenders, Juliano Ribeiro Salgado. France. 2014. 109mins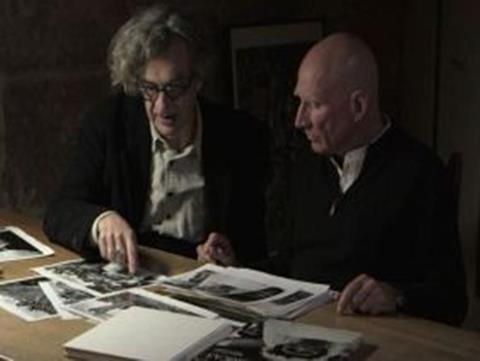 A Wim Wenders documentary has become a much more enticing prospect than a new Wim Wenders drama. Oscar nominations for The Buena Vista Social Club (1999) and Pina (2011) attest to the way that the documentary form seems to bring out the best in Wenders. The Salt Of The Earth is no exception as it pays tribute to the extraordinary life of photographer and environmentalist Sebastiao Salgado.
The film is a fitting tribute to an inspirational figure.
Working in partnership with Salgado's son Juliano Ribiero, Wenders has created a film where the simplicity and sincerity of purpose are entirely in keeping with the humility of the subject. Hauntingly beautiful images are matched with illuminating testimony to create an utterly absorbing portrait that should be rewarded with a lengthy life in all markets and would make a fantastic one-night special presentation in cinemas, museums and photographic galleries.
Wenders has a very personal connection to Salgado's work and his dulcet tones recall his purchase of two prints that touched him deeply. Early in the film, we see Salgado's breathtaking black and white images from the Brazilian gold mines of Serra Paleda in the 1970s that look like a Fritz Lang silent epic or a Cecil B DeMille Biblical blockbuster. Teeming hordes climb from the bowels of the earth covered in dirt and mud as they excavate a vast space that promises them a slight chance of riches.
The film provides ample biographical information on the Brazilian-born Salgado who is now 70. It is his photographs that are quite rightly the star attraction. He has an amazing ability to capture the humanity of a moment, sculpt in light and shadow and spent decades as a front line witness to
history from famine in Ethiopia to genocide in Rwanda. We are presented with an image and are then drawn through the image to see Salgado watching the same image and offering his memories of a specific shot or a particular time.
He is a magnetic personality and Wenders is content to let the focus fall on the photographs and Salgado's conversation as he recalls some of the major photographic projects of his career including Workers (1986-1991) and Genesis (2004-2013), an affectionate love letter to the planet.
Wenders tiptoes gently around Juliano's feelings of growing up with a father who was largely absent from his life, exploring the distant corners of the planet or risking his safety to photograph firefighters on the burning oil fields of Kuwait or unflinching moments of death in Bosnia. Salgado's wife Leilia is recognised as a vital force in his photographic projects and exhibitions although you might have wanted to hear more from her.
The film grows increasingly mournful as Salgado recalls lengthy periods of his life when he saw ample evidence of death and destruction. It is entirely understandable that he reached a point when he could no longer bear such intimate witness to the worst of humanity. Typically, he found creative ways to transcend that despair and the film ends in tales of hope as we learn of the Salgado family's success in planting to two million trees and re-building an entire eco-system at the Instituto Terra in Brazil which is now a national park. The film is a fitting tribute to an inspirational figure.
Production companies: Decia Films, Amazonas Images, Solares Delle Arti
Sales contact: Le Pacte www.le-pacte.com
Producer: David Rosier
Screenplay: Juliano Ribiero Salgado, Wim Wenders, David Rosier
Cinematograpy: Hugh Barbier, Juliano Ribiero Salgado
Editors: Maxine Goedicke, Rob Myers
Production designer: Merideth Boswell
Music: Laurent Pettigand