Dir. Joe Wright. US. 2009. 116 mins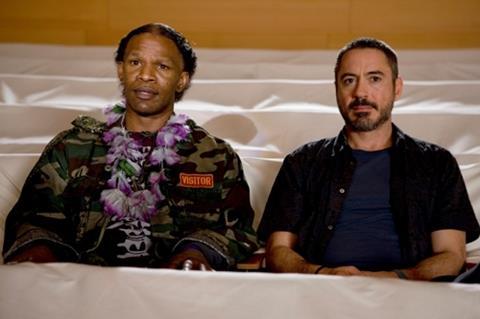 Marking the US debut of Atonement director Joe Wright, The Soloist turns the true story of a Los Angeles newspaper columnist and a homeless schizophrenic musician into an emotional but uneventful drama with a social issues backdrop. Though stars Jamie Foxx and Robert Downey Jr give it a measure of mainstream appeal, this DreamWorks/Working Title production will still be a tough sell beyond its core audience of older, classical music-loving cinemagoers.
Foxx is impressive in his physical performance as Ayers but he struggles to find much that's emotionally relatable in the character
Paramount opens the film wide in North America this weekend (April 24), a week after the slightly comparable State of Play and a week before the start of the summer blockbuster season. Making a mark in that slot will not be easy, even with the help of the studio's unusual marketing campaign (which has included a faux editorial supplement in the Los Angeles Times).
International distributor Universal is waiting until September to launch the film in most other major territories and the early autumn slot may prove a better fit for The Soloist's mix of understated emotion and social awareness.
Erin Brokovich screenwriter Susannah Grant has adapted the 2008 book by Los Angeles Times columnist Steve Lopez about his relationship (originally chronicled in a popular series of articles) with Nathanial Ayers, a former Julliard School cello student living on the streets of LA's notorious Skid Row after his studies were cut short by schizophrenia.
In the film's fictionalised version of events, edgy loner Lopez (Downey) quickly sees past the crazy costumes and odd mannerisms of Ayers (Foxx) and finds the talented musician a place at a homeless outreach centre. As the relationship develops, Lopez takes Ayers to an LA Philharmonic rehearsal, introduces him to a professional cellist and tries to get him off the street and into an apartment.
Lopez's character is fleshed out through scenes of him sweating over his work, whiling away lonely nights at home and bickering with his ex-wife (played by Catherine Keener). Ayers' story is told in flashbacks to his youth as a musical prodigy from a tough Cleveland neighbourhood.
As a study of two apparently dissimilar men trying to find their way in the world, The Soloist works fairly well. What's lacking, however, are the dramatic ups and downs usually required by mainstream Hollywood fare.
To its credit, the film resists the temptation to create artificial drama or a conveniently happy ending. Instead, it brings in a number of sub-plots, touching, for example, on the decline of the newspaper business and the mayor of Los Angeles' controversial attempt to 'clean up' Skid Row (a number of whose real-life inhabitants appear as extras).
Wright, who also made Working Title's award-winning Jane Austen adaptation Pride & Prejudice, tells his first contemporary big screen story with a slightly heavy hand, employing a lot of camera movement and overlapping dialogue. Embellishments such as Lopez's journalistic voiceovers and a synesthesia sequence as Ayers listens to music are more intrusive than helpful.
Downey initially plays Lopez as a variation on the tartly funny guys he has portrayed in Iron Man, Zodiac and other movies. Later on he finds something sadder and deeper in the character, who fits the film's title just as much as musician Ayers.
Foxx is impressive in his physical performance as Ayers but he struggles to find much that's emotionally relatable in the character.
Several department heads from Wright's earlier films make strong contributions to the project. cinematographer Seamus McGarvey shoots the film's Los Angeles locations from some interesting angles and composer Dario Marianelli skillfully weaves the score – which includes excerpts from Beethoven as well as original music inspired by him – into the action.
Production companies
DreamWorks Pictures
Universal Pictures
StudioCanal
Participant Media
Krasnoff/Foster Entertainment
Working Title Films
North American distribution
Paramount Pictures
Int'l distribution
Universal Pictures International
Producers
Gary Foster
Russ Krasnoff
Screenplay
Susannah Grant, based on the book by Steve Lopez
Cinematography
Seamus McGarvey
Production design
Sarah Greenwood
Editor
Paul Tothill
Music
Dario Marianelli
Main cast
Jamie Foxx
Robert Downey Jr
Catherine Keener
Tom Hollander
LisaGay Hamilton