Chinese producer Chui Po-chu talks to Screen about upcoming $25m fantasy drama The Sorcerer And The White Snake, starring Jet Li, which is being sold internationally by Hong Kong-based Distribution Workshop.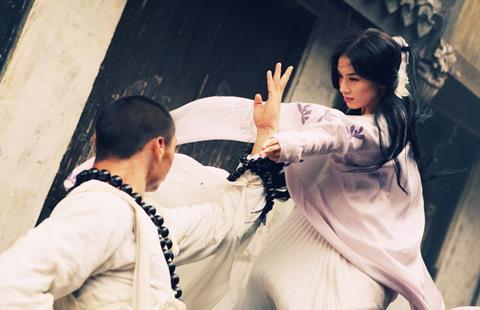 Synopsis: Based on a Chinese legend about a white snake who transforms into a beautiful woman to rescue and live with the man she falls in love with – an herbal physician. Jet Li plays a sorcerer who discovers her identity and attempts to destroy her to save the physician's soul.
Director: Tony Ching Siu-Tung
Writer: Zhang Tan, Tsang Kan-Cheong, Szeto Cheuk-Hon
Producers: Chui Po-chu
Cast: Jet Li, Eva Huang, Raymond Lam, Charlene Choi, Wen Zhang
Budget: $25m
Financing: Juli Entertainment Media Co. Ltd
Language: Chinese
Countries of Production: China
Status: Post-production
Release date: September 29, 2011
One of China's most highly-respected producers Chui Po-chu has credits including Crouching Tiger, Hidden Dragon and Stephen Chow's Kung-fu Hustle. She has recently produced $25m fantasy drama The Sorcerer And The White Snake, based on a well-known Chinese legend that has previously inspired a film made by Shaw Brothers in 1962 and Tsui Hark's Green Snake in 1993.
The film, which has been selected to screen out of competition at Venice, is financed by Beijing-based Juli Entertainment Media, a subsidiary of industrial conglomerate Juli Group, which specialises in the solar energy and sling/rigging business.
On what makes this adaptation of the Chinese legend different:
Our story is based on a one-thousand-year-old classic Chinese legend. The story line is still based on the love affair between Madam White Snake and Xu Xian, but with each character's personality more intensively shaped, and we also incorporate modern perspectives. In this film, we get rid of the sorcerer Fahai's simple image of a villain. Although he still insists on some principles, he no longer stubbornly judges good and evil based on being human or goblin. Also Xu Xian is also not a weak and cowardly character any more. Instead, he is a sunny, aggressive and ambitious young man. We added characters not present in previous versions to enrich story lines, for example, Fahai's apprentice, Neng Ren. We also used some animal characters to add fun and relaxing elements to the movie.
On the film's appeal to a non Chinese audience:
First of all, we have lots of action in the film. We have Tony Ching, who was action choreographer on several box office hits overseas, and also Jet Li in the cast – both are a reliable box office draw. Secondly, based on my knowledge, the White Snake story is not so unfamiliar to viewers in Japan, Korea and even in the US. Although the White Snake legend is a Chinese mythology, love stories are common topics and borderless, and from the angle of romance, the film can be quite easily accepted by audiences in various countries. Most of the mythopoetic fantasy movies previously known to viewers are all based on western stories like Harry Potter and The Lord Of The Rings. This time, we use lots of visual effects and classical Eastern elements to package a Chinese classic fantasy love story. Our story, action and visual presence are our selling points to overseas viewers.
On the logistics of the shoot:
During pre-production, we visited many places to select scenery that we hoped would capture the essence of Eastern-style landscapes in the film. Finally, we chose Chongyang county in Hubei province, Shengqiang county in Shanghai, Anji county in Zhejiang Province and Sandu and Xiangshan counties in Beijing for our outdoor scenes. We also used nostalgic studio sets for interior shots of the Grand Hall (also known as Da Xiong Hall) and green screen special effect shots. On top of that, we built a scale model that includes Golden Mount Temple and Leifeng Pagoda to re-enact the flooding of Golden Mountain scenes with real water, to which we added computer special effects, to create a more realistic and shocking viewing experience.
On the financing:
The total investment is $25m and is invested by Juli alone. They were just entering the film industry and needed a good project. When I presented this project to them, they thought that with the subject, the cast and the main production crew, the film has a great chance of becoming a hit in the market. In addition, actors signed by the company can also take part in the movie. Filming this movie can advertise and promote the company and its actors' images. Juli has solid financial strength and is very positive about the recovery of this investment, and that is why they decided to be the sole investor.
On the special effects:
There are a tremendous amount of complex special effects scenes in this film, probably a higher percentage than all other Chinese movies. Therefore, this movie was worked on jointly by companies from China and several other countries, including Korea and Hong Kong. For example, we had to build snakes and water for sure, but snakes and water are two completely different types of production. So we decided to let each special effects company work on what they are best at and to complete this movie as a team.