Dir: John Butler. Ireland. 2013. 94mins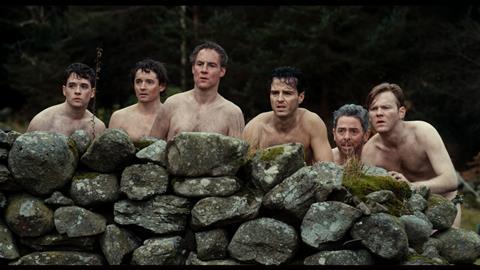 The male bonding is warm but also a tad predictable in The Stag, an Irish comedy with its share of heart but not a lot of surprise. Making his feature directorial debut, John Butler populates his film with some standard masculine caricatures — such as the wimp and the psycho — who never quite transcend their generic types.
The Stag generates some goodwill because of the cast's easy rapport.
Playing at the Toronto Film Festival, The Stag has been picked up by Arrow Films for distribution in the UK, with a spring 2014 release tentatively set. North American audiences familiar with the bromance antics of the Hangover franchise might be interested in this gentler take on the raucous bachelor party comedy, although the lack of major box office stars might prove an obstacle to theatrical business. And, of course, it's certainly possible that Hollywood might decide that an American remake could be profitable.
We're mere days away from Fionan's (Hugh O'Conor) wedding as The Stag begins, and his fiancée Ruth (Amy Huberman) wants his best man Davin (Andrew Scott) to throw him a stag weekend. (Fionan is such an anti-macho guy that he professes that he has no interest in such things. He'd rather focus on wedding details like the floral arrangements.) Davin agrees to set up a camping trip for Fionan and their friends, but he's nursing a painful secret: He's still in love with Ruth, who broke up with him right before Fionan started seeing her.
The Stag's setup is hardly original, but the hope would be that Butler (who co-wrote the screenplay with Peter McDonald) subverts expectations or delivers consistently funny bits of business. Sadly, neither scenario quite happens. Butler and cinematographer Peter Robertson make good use of the rustic locales where the men decide to go camping, but too much of the comic tension derives from a strained conceit. That would be a man known as "The Machine" (McDonald), Ruth's aggressively obnoxious brother who decides to come join the stag weekend, even though no one can stand him.
As played by McDonald, The Machine has a few isolated funny moments. (The most memorable may be his unsuccessful clash with an electric fence.) But his one-note hijinks become tiresome without ever arriving at an inspired level of annoyance. (Mocking other people's masculinity, acting vaguely animalistic, and giving his campmates demeaning nicknames gets old fast.) Even when The Machine reveals some vulnerability later on, it plays out in a rather pat way, the character perhaps funnier on the page than he appears on screen.
Consistently, The Stag finds potential comic set pieces but doesn't go for the jugular, preferring a milder, more pleasantly amusing execution. While the lack of crassness is welcome — one shudders to think how a comparable American comedy would approach this material — The Stag's humour feels disappointingly safe. For all the talk at the beginning of the film about docile Fionan's apprehension about having a macho weekend in the woods, the truth is The Stag is more geared toward his tamer sensibilities than to the outlandish antics of The Machine.
Even if the comedy isn't particularly sterling, The Stag generates some goodwill because of the cast's easy rapport. O'Conor doesn't overdo Fionan's meek demeanour, although there aren't many interesting edges to the character. (And while Fionan's wedding planner jokes about his metrosexual tendencies, this blessedly doesn't become a crude running joke in the film.) As the serial dater Davin, Scott has a relaxed presence — it's too bad that his big showdown scene with Fionan, when his true feelings for Ruth are finally revealed, doesn't have more comic spark. All in all, the men of The Stag are decent company — just don't expect them to give you a night you'll never forget.
Production companies: Irish Film Board/Bord Scannán na hÉireann, Windmill Lane Pictures, Treasure Entertainment
UK distribution: Arrow Film Distributors, www.arrowfilms.co.uk
International sales: Metro International Entertainment, www.metro-films.com
Producers: Rebecca O'Flanagan, Robert Walpole
Screenplay: John Butler and Peter McDonald
Cinematography: Peter Robertson
Production design: Ferdia Murphy
Editor: John O'Connor
Music: Stephen Rennicks with Hugh Drumm
Main cast: Andrew Scott, Hugh O'Conor, Peter McDonald, Brian Gleeson, Andrew Bennett, Michael Legge, Amy Huberman