Dirs: Josh Gordon, Will Speck. US. 2010. 101mins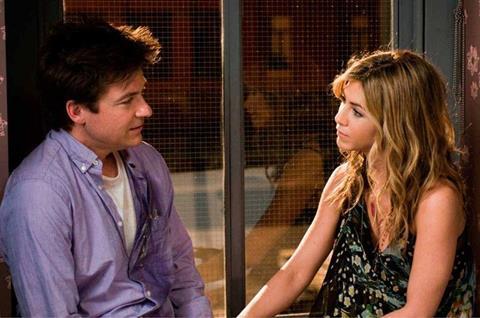 There is a refreshing amount of feel-good charm to The Switch, a delightfully performed rom-com featuring spot-on performances by leads Jason Bateman and Jennifer Aniston that should nicely fill a late-summer gap for offbeat comedy fare that isn't driven by special effects or 3D. Certainly it is the best Aniston vehicle for some time, and proves she can carry a film given a good script and a strong support cast.
Jennifer Aniston is at her best in a part that is as close to her role of Rachel in Friends than she has taken on before.
That good-old artificial insemination/ticking biological clock storyline is dusted off and given some modest twists by screenwriter Alan Loeb, and with the smart laughs and tender performances delivered with ease by pros like Aniston, Bateman, Jeff Goldblum and Juliette Lewis, this Disney release of a Miramax film (handled by Lionsgate in the UK) should attract reliable box office, with a strong home entertainment life a certainty.
There is an easy charm between Jason Bateman and Jennifer Aniston, playing best pals Wally and Kassie. As expected with such rom-coms, Wall Street worker Wally (never clear what he actually does) has long been in love with Kassie, but never had the confidence or gumption to tell her how he feels. He is provoked into some sort of action when Kassie announces she wants to have a child and is on the hunt for a sperm donor.
When her friend Debbie (Juliette Lewis in suitably exuberant form) throws Kassie an 'insemination party' , Wally arrives and promptly gets drunk after meeting her chosen donor, the seemingly perfect Roland (Patrick Wilson) who is there with his also perfect wife. After locking himself in the toilet, Wally accidentally washes Roland's sperm down the toilet…leaving himself no option (in the world of movies at least) to re-fill the sperm container with his own offering.
He drunkenly admits what he has done to his best pal (Jeff Golbdlum, in sparkling form), but the next day apparently the booze has finally taken its toll and he says he can remember nothing of the party or his actions. Kassie promptly decides to leave New York to raise her child in the countryside. She returns seven years later with an engagingly neurotic son Sebastian who just happens to be the spitting image of Wally.
Bells finally start to ring with Wally the more time he spends with young Sebastian, but just as he is ready to declare his feelings for Kassie the spectre of a now-single Roland arrives on the scene, leading Wally to have to face up to his actions and pluck up courage to finally declare his love to Kassie.
In truth the story offers little in the way of super-clever plot twists or unique dialogue, but it does offer the perfect platform for two comfortable performers to do their best work. Certainly Bateman is at ease and very funny playing the witty and anxious hypochondriac while Jennifer Aniston is at her best in a part that is as close to her role of Rachel in Friends than she has taken on before. She delivers her lines with confident comedy ease, and certainly gives her best performance in a mainstream comedy film for some years.
Production companies: Mandate Pictures, Bona Fide Productions, Echo Films
US Distribution: Miramax Films
UK Distribution: Lionsgate
Producers: Albert Berger, Ron Yerxa
Executive producers: Jennifer Aniston, Kristin Hahn, Nathan Kahane
Co-producers: Kelli Konop, Mary Lee, All Loeb, Steven Pearl
Screenplay: Allan Loeb, based on the short story by Jeffrey Eugenides
Cinematography: Jess Hall
Editor: John Axelrad
Production designer: Adam Stockhausen
Music: Alex Wurman
Website: www.theswitch-movie.com
Main cast: Jennifer Aniston, Jason Bateman, Patrick Wilson, Juliette Lewis, Jeff Goldblum, Thomas Robinson