Dir/scr: Julie Taymor. USA. 2010. 109mins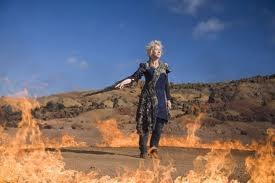 More storm in a teacup than Tempest, Julie Taymor's second cinematic Shakespeare after Titus is a disappointingly superficial take on the Bard's poignant and mystical late comedy. Full of gauche CGI work and costumes that recall early Duran Duran videos, the film not only fails to make a good case for its main novelty – the casting of Helen Mirren as a female version of the play's world-weary island ruler and sorcerer, Prospero – but despite extensive use of its exotic Hawaiian locations, fails also to convince as a piece of cinema. Taymor has a few bright ideas here, but they are mostly theatrical, not filmic; and in the end, with its jarring prog-rock soundtrack, this all feels like a rather dated screen version of a 1980s rock opera.
It's difficult to discern an overall vision in Taymor's aesthetic choices.
Programmed as the closing film of this year's Venice film festival, The Tempest at least has a decent script – and though Shakespeare must take most of the credit here, Taymor's edit of the Bard's elegiac dark-hued comedy gets the story and characters across efficiently without feeling sparse. And for all the film's faults and the likely downbeat critical reaction, there's a faithful audience for filmed Shakespeare that has been starved of late and will no doubt turn out, tempted by Taymor's reputation and the names in the cast, when this begins its world tour this winter (beginning with the States on December 10).
What The Tempest won't do is become a long-tail classic film adaptation like Richard Loncraine's inventive rise-of-Fascism recasting of Richard III or, indeed, Derek Jarman's 1979 camp gothic Tempest, which still shifts copies on DVD. Auxiliary sales are likely to be sluggish, though high-school English teachers looking for an easy couple of hours in the classroom may take the bait.
Helen Mirren, spike-haired and careworn, plays a female version of the Prospero of Shakespeare's play, with dialogue and references rewritten to reflect the gender change. 'Prospera' is a former duchess of Milan who was set adrift in a boat with her daughter Miranda (Jones) after being ousted in a palace coup. The two washed up on an island which Prospera now rules with her magic arts, summoning a semi-transparent blue sprite called Ariel (Whishaw) to do her bidding and using the recalcitrant 'monster' Caliban (Hounsou) – the offspring of a witch she defeated – as an unwilling dogsbody. At the beginning of the film, Prospera engineers the storm of the title to shipwreck the men who ousted her all those years before and cast them ashore on the island. She intends to give each his own just deserts: punishing some, rewarding others, and teaching all a lesson.
Perhaps the most successful plot strand, and the only one that really resonates emotionally, is the tender first-love romance that springs up (thanks to ma's manipulation) between Miranda and Prince Ferdinand (Carney). Radiating fresh-faced innocence, Jones is perfect in the role of a girl whose discovery of a 'brave new world' she never knew existed is a potent metaphor for the passage from adolescence to adulthood.
We also follow two other groups of island castaways. The first is formed of palace menials Trinculo (UK comic Russell Brand, who larks about as Russell Brand in outlandish Withnail-meets-Marc-Bolan garb) and the bibulous Stephano (Molina, the best of the supporting actors), who Caliban worships as a god because he supplies him with the magic drug – alcohol. The second group, who wander aimlessly until Prospera has Ariel reel them in, are Ferdinand's father King Alonso (Strathairn), his good-hearted but long-winded elderly counselor Gonzalo (Conti), Prospera's treacherous brother Antonio (Cooper, having a few problems with his accent) and the King's younger brother Sebastian (an enjoyably arch Cumming).
It's difficult to discern an overall vision in Taymor's aesthetic choices. The Hawaiian island of Lanai is clearly a starkly beautiful place with its barren hills and bays and dark, thorny forests, and there is some kind of irony in shots of refined courtiers stumbling around a volcanic wasteland. But nature, a key theme of Shakespeare's play, never becomes a character here, only a backdrop (one can only speculate wistfully what someone like Terence Mallick would have done with the terrain).
Some of the computer graphics – especially those connected to the flighty Ariel – are so amateurish as to suggest that we're supposed to see them as charmingly lo-fi; but then again, perhaps not. The casting of black actor Hounsou as Caliban, and the way he is presented with his African accent and caked-earth make-up, hints at a critique of colonialism – but this is left hanging like a soft fruit at a pick-your-own theme farm. So is the presumably feminist agenda behind the resexing of Prospero. True, it's difficult to pursue this without changing Shakespeare's lines – but not impossible, and as it is, although Mirren makes a decent stab at the role of a haughty woman who forces herself to forgive her enemies and return to society, if only for her daughter's sake, it would have been no different is she'd been the father of Shakespeare's original play - so 'Prospera' always feels like a gimmick.
And then there's the music. Music and songs are an integral part of The Tempest's dramatic fibre; but although Elliot Goldenthal's high-in-the-mix score has its atmospheric moments, its jangling metallic edges are more often a distraction from a work that deserves a less aggressive, more melancholy soundscape.
Production companies: Chartoff/Hendee Productions, Talkstory Productions, Touchstone Pictures, Miramax Films
International sales: Icon Entertainment International, www.icon-entertainment.co.uk
Producers: Julie Taymor, Robert Chartoff, Lynn Hendee, Julia Taylor-Stanley, Jason K. Lau
Executive producers: John C. Ching, Deborah Lau, Ron Bozman, Tino Puri, Rohit Khattar, Stewart Till, Anthony Buckner, Greg Strasburg
Cinematography: Stuart Dryburgh
Production designer: Mark Friedberg
Editor: Francoise Bonnot
Music: Elliot Goldenthal
Main cast: Helen Mirren, Felicity Jones, Reeve Carney, Russell Brand, Chris Cooper, Alfred Molina, David Strathairn, Tom Conti, Djimon Hounsou, Ben Whishaw, Alan Cumming