Dir: Paul W S Anderson. UK-Germany-France-US. UK. 110mins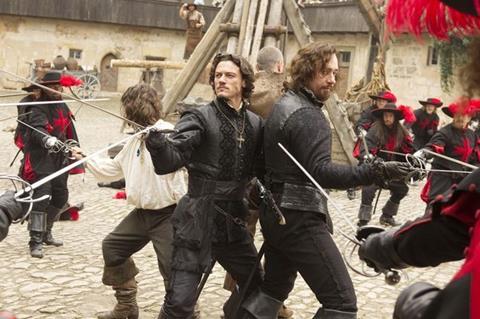 With their swords dusted off and old-fashioned swashbuckling adventure clearly in mind, The Three Musketeers make it back to the big screen in this engagingly colourful and action-packed romp, with director Paul W S Anderson displaying verve and panache in this rousing 3D re-booting of the much-filmed French classic novel.
It is a well-crafted bit of mainstream entertainment that doesn't disappoint in terms of good old-fashioned swashbuckling fun.
As he displayed in Resident Evil: Afterlife – the most recent of his hit zombie/sci-fi films, which star Milla Jovovich – Anderson has an appreciation and sure touch when it comes to 3D work, and it does help his delve into a colourful and dynamic movie-version of 17th century Europe as the Musketeers set about plenty of sword-fights, carousing and general derring-do.
The lack of real A-List star names – the likes of Milla Jovovich, Orlando Bloom and Matthew Macfadyen are not known film-openers, apart from Jovovich's genre films – may hamper major box office returns, but the film should have a strong international appeal as well as being resolutely family friendly and packed with impressively shot action scenes.
As with any modern re-boot (perhaps the wrong term, as this is more a variation on the theme rather than a wholesale re-interpretation) elements are amended to try and make the project more appealing to younger audiences. And while in the case of The Three Musketeers we get a version of the 'crisscrossing laser beams during heist' (here razor-sharp wires) and balloon galleons, at its very heart the film pays respect to the core of the first section of Alexandre Dumas' classic historical serialised 1884 novel, and will be familiar to fans of Richard Lester's successful 1973 version.
This new version – from a script featuring the heady pairing of Andrew Davies (who scripted the BBC's Pride and Prejudice serial and many other classic adaptations) and Alex Litvak (who wrote Predators) – opens in Venice and a scene-setting action-heist sequence to introduce the varied characteristics and skills of the Musketeers.
Athos (Macfadyen) is the skilled and thoughtful leader; Porthos (Stevenson) is blunter but larger-than-life, and Aramis (Evans) religious but deadly, and the three are joined by Athos's seductive lover Milady de Winter (Jovovich) to steal plans for Leonardo Da Vinci's airship. But Milady double-crosses the threesome in favour of the conniving English Duke of Buckingham (Bloom), leaving Athos heartbroken.
Fair enough this may not be pure Dumas, but the film then switches into more traditional mode as one year later we are introduced to young wannabe Musketeer D'Artagnan (Lerman, who starred in Percy Jackson & The Lightning Thief) who is off to Paris seeking fame and fortune. Before long he has managed to challenge all three Musketeers to duels, fought with them against the Cardinal's men and also caught the eye of Constance (Wilde), the Queen's lady in waiting.
A plot by the Cardinal (Waltz) to steal a diamond necklace from the French Queen (Juno) and place it with Buckingham to try and engineer a war with England by playing on the jealousies of the young French King (Fox) who had given her the necklace, is set in motion by Milady (cue some high-flying heist moments and the crisscross wire scene as Jovovich plays on her action-woman credentials). And before you know it the Musketeers (now a foursome, with dashing D'Artagnan asked to help the Queen by Constance) are battling both Cardinal's guards and Buckingham's army as they head to England to recover the necklace and save France.
Smartly Anderson makes sure the film moves at a cracking pace – no real room for character development of superfluous subplots here – and makes great use of some stunning locations (largely in Germany) and sets and fabulous costume design work from Pierre-Yves Gayraud, who worked on Perfume: The Story Of A Murderer.
The adding to the story a subplot about Da Vinci and his plans for airships (essentially balloon galleons to help play into the laps of Pirates Of The Caribbean fans) rubs a little uneasily with the traditional plot, but it is all extremely well staged and inventive, and offers a fresh perspective of 17th century Paris.
To a degree the benchmark against which any Musketeers movie will be judged is that of Richard Lester's film. Granted Douglas Fairbank's silent 191 film is a classic, Gene Kelly was appropriately agile in the glossy 1948 MGM version and even Tom and Jerry and Mickey, Donald and Goofy had had stabs at the story, but Lester's rumbustious film remains the version most fondly remembered.
And while he played the film for laughs (Raquel Welch as Constance was comically clumsy; the fight scenes were bawdy and amusing, and the legendary Spike Milligan was on hand as Constance's husband) in the new version it is all about colour, verve, action and adventure, with only James Corden's servant Planchet (played by the much-loved Roy Kinnear in Lester's version) on hand for comic effect.
Logan Lerman makes a great step up from teen actor to youthful big-screen action star as D'Artagnan. His D'Artagnan has the perfect blend of engaging innocence and frank feistiness, and he is a fine counter-balance to the more worldly and cynical Musketeers. Matthew Macfadyen is suitably stoical (though perhaps a bit undercooked) as Athos; Ray Stevenson nicely blustering (as he played as Volstagg in Thor) as Porthos and Luke Evans (from Tamara Drewe) excellent as Aramis.
Perhaps more fun, though, is had in the 'support' roles. Milla Jovovich is nicely sexy and flexible as Milady, offering up he signature action-woman moments, while Orlando Bloom (all Elvis-quiff and flamboyant clothing) is nicely against type as Buckingham. Christoph Waltz is perfect as the conniving Cardinal while Mads Mikkelsen is great as dastardly swordsman Rochefort, though never really given enough to do.
The 3D helps give the film a sense of swirling energy as it sweeps in and around the magnificent locations and dips and weaves through the action sequences, while Paul W S Anderson smartly favours family action over ponderous dialogue. The Three Musketeers is a film that critics will find it easy to sneer at, but it is a well-crafted bit of mainstream entertainment that doesn't disappoint in terms of good old-fashioned swashbuckling fun.
Production companies: Impact Pictures, Constantin Film Produktion, Nouvelles Editions de Films, New Legacy
International sales: Summit Entertainment, http://summit-ent.com
Producers: Jeremy Bolt, Robert Kulzer
Executive producers: Martin Moszkowicz, Christine Rothe
Screenplay: Andrew Davies, Alex Litvak
Cinematography: Glen Macpherson
Editor: Alexander Berner
Production designer: Paul Denham Austerberry
Main cast: Logan Lerman, Matthew Macfadyen, Ray Stevenson, Luke Evans, James Corden, Gabriella Wilde, Milla Jovovich, Orlando Bloom, Juno Temple, Mads Mikkelsen, Christoph Waltz, Freddie Fox, Til Schweiger