Dir/scr: Myroslav Slaboshpytskiy. Ukraine. 2014. 130mins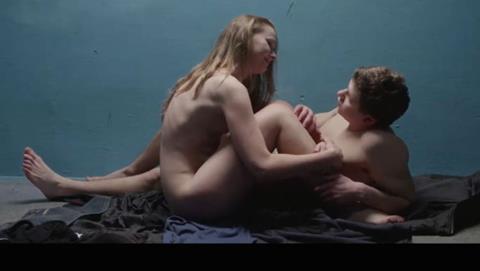 One of the most bold and intriguing challenges to screen at Cannes, Myroslav Slaboshpytskiy's ambitious debut Ukrainian film is a strange and oddly immersive film that makes it audience really work but in the end delivers something rare and original. A prize-winner in Critics' Week it will be a festival favourite and likely pique the interest of distributors who can handle the more challenging material.
It is a tough watch, but an impressive one – a film that deserves to be seen.
As the opening intertitles simply states "The film is on sign language of deaf-and-dumb. There is no translation, no subtitles, no voice over on purpose". The grammar may be wrong, but the content is correct – the film is made up entirely of deaf sign-language users, and with no spoken language, music or subtitles to help as guides the audience is immersed in the visuals and ambient sound and asked to work hard to follow the story of teenage gangs, sexual encounters and violent hazing rituals.
The opening scenes of The Tribe follow teenager Sergey (Grigory Fesenko) as he walks, suitcase in hand, through Kiev to a boarding school for the deaf where he is introduced to the school principal (Tatyana Radchenko). Shown around class and the dining area – all very familiar in the sense of yet another 'newcomer at school' film – he is put into a dormitory overseen by rather brutal older boys. By day the school is pretty much as any other, but at night thing change.
School leader is King (Alexander Osadchiy) who leads a gang of boys to mug strangers in parks and on trains (mainly so they can booze), while girls Anya (Yana Novikova) and Svetka (Rosa Babiy) change in the back of a van into hooker gear and are taken to a truck stop for a little prostitution.
After a series of brutal rites of passage Sergey starts becoming part if the gang and ends up overseeing Anya and Svetka at the truck. He manages to get the money to pay for a session with Anya, and they have sex in dingy basement. Anya and Svetka want to immigrate to Italy and apply for visas, but a surprise pregnancy sees the film heading into even darker territory and a visit to a backstreets abortionist…and one of the most harrowing scenes as Anya's screams mark the only use of a 'voice' in the film.
The acting may appear slightly amateur and excessive at times, but the physical gestures are linked to sign language and therefore suits the bold concept. The storyline itself may be familiar, but the more the audience is immersed in the film the easier it is to follow what is happening. Of course signing is different from country to country (and often region to region), but a knowledge of the skill is never needed to be impressed with The Tribe.
Most impressive is Valentyn Vasyanovych's assured and beautifully composed steadicam cinematography that helps the viewer become part of the oddly disturbing world of these troubled and often brutal youngsters. It is a tough watch, but an impressive one – a film that deserves to be seen.
Production companies: Alpha Violent, Arthouse Traffic, Garmata Film

International sales: Alpha Violet, http://www.alphaviolet.com
Producers: Valentyn Vasyanovych, Iya Myslytska, Elena Slaboshpytskaya

Cinematography: Valentyn Vasyanovych

Editors: Valentyn Vasyanovych

Production designer: Vlad Odudenko

Main cast: Grigory Fesenko, Yana Novikova, Alexander Osadchiy, Alexander Panivan, Rosa Babiy