Dir: Michael Winterbottom. UK. 2010. 100mins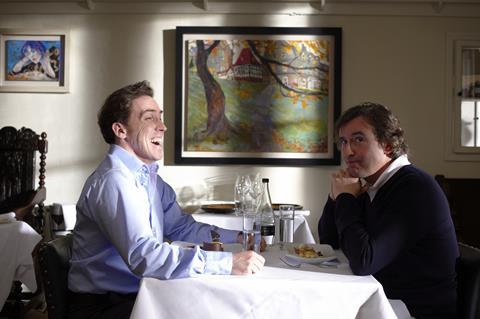 Steve Coogan and Rob Brydon are sheer acerbic perfection in Michael Winterbottom's largely improvised comedy The Trip, which sees the pair heading off to the North of England for a culinary road trip to visit a series of top restaurants. The film is a deliciously funny success that should prove popular in territories where the pair are a known quantity.
Director Michael Winterbottom clearly delights in shooting some spectacular British scenery and really does get the best out of the comedy pair.
Director Michael Winterbottom worked with the duo – who have worked together extensively on UK TV – in his film Tristram Shandy: A Cock And Bull Story, where (in a similar fashion) they essentially played fictionalised versions of themselves…bickering, telling jokes, grumbling – with Coogan the neurotic ambitious one and Brydon his, happier less ambitious, friend.
They take the same riff here in The Trip. This time, Coogan has been asked by The Observer newspaper to visit a series of fine restaurants and write about his trip around the Lake District and the Yorkshire Dales. When his girlfriend backs out and no other friends will come with him, he turns to the ever-compliant Brydon.
Heading up North in a stylish black Range Rover the pair begin a journey that tests their friendship and questions what is important to them, while also packing in a great deal of food and sparkling improvised humour along the way.
Coogan is obsessed with maps and finding the right routes, while Brydon simply wants to do as many impressions as possible. Their dalliances at a series of stylish restaurants are punctuated by some wonderful freeflowing scattershot improvised humour as they engage in some wonderful comedy moments.
They try and out-do each other as to who has the best Michael Caine impression; debate how Michael Sheen will always get better roles than Steve Coogan, and deliver a series of superb Woody Allen impressions and jokes. Throughout all of this the more pompous Coogan insists on the best hotel rooms, frets about his career, talks to his US-based girlfriend while also having a series of one-night stands, and gets increasingly aggravated by Brydon's permanent optimism. Brydon simply misses his wife and small baby.
The film originated as a six part UK TV series – as yet unscreened – which takes as each episode the name of the various restaurants the pair eat at (Hipping Hall, The Angel at Hetton, The Yorke Arms, L'Enclume, Holbeck Ghyll and The Inn at Whitewell), though while the scenes of them being served various delicacies are nicely staged (Brydon favours scallops as his starter as a rule), they are simply a backdrop for the pair to engage in some spectacularly funny improvised comedy.
Director Michael Winterbottom (himself from Blackburn) clearly delights in shooting some spectacular British scenery (the Tourist Board will approve), and really does get the best out of the comedy pair. In one delightful cameo Ben Stiller (who directed Coogan in Tropic Thunder) crops up at the Chateau Marmont to reassure Coogan how all the top auteurs want to work with him…naturally it is just a dream.
Production companies: Revolution Films, Baby Cow, Arbie Productions
International sales: Revolution Films, www.revolution-films.com
Producers: Andrew Eaton, Melissa Parmenter
Executive producers: Henry Normal, Simon Lupton
Cinematography: Ben Smithard
Editors: Mags Arnold, Paul Monahgan
Music: Michael Nyman
Main cast: Steve Coogan, Rob Brydon, Claire Keelan, Margo Stilley, Ben Stiller