Dir/scr: Jacob Tierney Canada 2009 120 min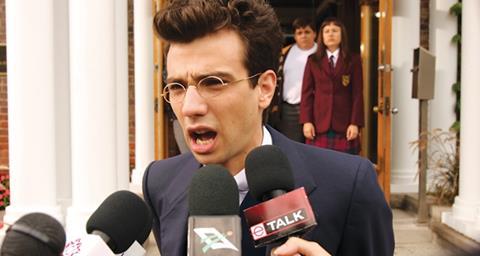 Jay Baruchel delivers an engaging star-turn in what might be the most unlikely movie premise this year: a 17 year-old Montreal kid believes himself to be the reincarnation of Leon Trotsky, the tragic hero of the Soviet Revolution. From its homage to Battleship Potemkin to the parting shot of a rusting red Lada car, The Trotsky is a smartly-paced rib-tickler that wears its heart on the sleeve of its collectivist tunic.
The Trotsky's great achievement is its inspirational message
Trotsky's high school setting belies the adult heart at its comedic core. While knowledge of Trotsky's biography is not essential, many of the strongest laughs turn on Leon's incongruous attitudes. Bizarre as it may seem, anti-socialist paranoia in the US may be a hindrance while some of the jokes are strictly for Canadian ears only. At home, Alliance could make this the year's number one.
The lead credits thunder with a Soviet-era hymn as we meet young Leon Bronstein at full-throttle, attempting to create a workers' paradise at a garment factory. His father (Rubinek) is not amused, given that he owns the means of production. Dad gives his privileged son a taste of his own medicine, yanking him from his private school and sending him to a state high school for his final year.
But this is all part of Leon's fate, as his Trotsky wall-chart clearly indicates: "get exiled (twice), marry an older woman (preferably named Alexandra), and get assassinated (hopefully somewhere warm)." With a foretold future, Leon freely casts his adversaries into the necessary roles. "Are you my Stalin, Dwight?" asks Leon, as the president of the student union complains about this cardigan-ed and neck-tied interloper. Soon the high school dance has a theme: social justice.
Conviction is essential to balance the lunacy of the premise and, like all the best comedians, Baruchel makes his character work through force of will. From behind his tiny spectacles, his eyes burn with zealotry. Aping the agitprop Soviet style, cinematographer Dufaux shoots Baruchel from below when he is speechifying. Despite its length (two hour 'comedies' can feel like an eternity) Tierney's script is tightly structured and closely observed.
Casting is strong, with supporting characters who are grounded and textured. Emily Hampshire as Leon's unwitting Alexandra is alive with sarcasm and exasperation but ultimately respect; Colme Feore brings a precise apparatchik menace to the principal, a role that would typically be cartoonish.
Tertiary characters send out flashes of wit that keep the screen alive while bolstering the unlikely hero's claim to greatness. Even the production design enhances Leon's otherness, particularly a scene where he guilelessly seduces Alexandra beside a giant portrait of a bed.
But The Trotsky's great achievement is its inspirational message: that apathy and boredom need not be the lot of young people and that collective action is not just a phrase but the engine of change. "Why should school suck?" Leon asks his listless peers. Why indeed?
To sign up for Screen's weekly Reviews Newsletter with all the week's new releases, internationalopenings and full festival reviews delivered free to your mailbox every Friday, please click HERE
Production company
Park Ex Pictures
International Sales
Park Ex Pictures
+1 514 933 4133
Producer
Kevin Tierney
Cinematography
Guy Dufaux
Production design
Anne Pritchard
Editor
Arthur Tarnowski
Music
Malajube
Main cast
Jay Baruchel
Emily Hampshire
Colme Feore
Saul Rubinek
Liane Balaban
Genevieve Bujold