Dir: Bill Condon. US. 2012. 115mins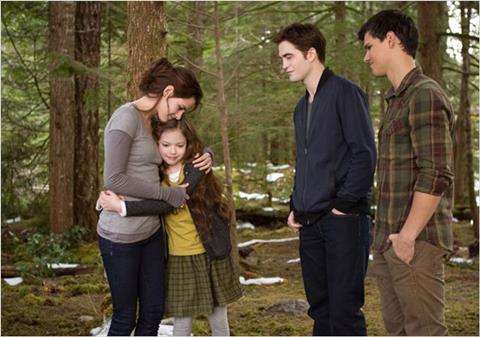 The hugely successful serial adaptation of Stephenie Meyer's teen-friendly vampires-and-werewolves soap opera winds its way to a conclusion with The Twilight Saga: Breaking Dawn – Part 2, one of the better entries of a middling series. There is a certain ceiling for melodrama in this programmatically plotted film. But after a rather sluggish opening half, director Bill Condon delivers a rousing finale that will work fans into a tizzy. More satisfying than objectively good, the movie serves as a fitting capstone on a five-year, $2.5 billion film franchise whose robust embrace not only helped launch the careers of its young stars but also solidified young adult and tween-lit as among the ripest properties for cinematic exploitation.
It is Stewart who most blossoms, delivering a more grounded and self-assured performance that reflects the settled heart of a perfectly requited love.
In a similar November release slot last year, Breaking Dawn – Part 1 rang up $281 million domestically against an additional $424 million internationally. It was the first movie in the franchise to dip in Stateside theatrical gross, but "Twi-hards" will no doubt turn out to bear witness to the story's wrap-up, and another high-nine-figure gross is guaranteed. Ancillary value will also be huge.
Meyer's 750-page Breaking Dawn novel was split into two movies, the first of which — in concentrating on nuptials between human Bella (Kristen Stewart) and vampire Edward (Robert Pattinson), and Bella's subsequent pregnancy — lacked much in the way of foreboding darkness or danger. Not surprisingly, Breaking Dawn – Part 2 possesses more downhill momentum.
After having barely survived childbirth, saved by Edward transforming her into a vampire, Bella is now immortal, and her ability to use her mind as a shield further enhanced. As she recuperates and learns to hone her powers, the Cullen vampire coven, overseen by Carlisle (Peter Facinelli), helps take care of her and Edward's unique half-breed daughter, Renesmee (Mackenzie Foy). Meanwhile, the other side of Bella and Edward's love triangle, werewolf Jacob (Taylor Lautner), has involuntarily "imprinted" upon Renesmee, marking her as his soul mate. Bella at first does not take kindly to this.
When outcast vampire Irina (Maggie Grace) misidentifies Renesmee as an immortal child, the Volturi, a vampire clan of blue-blooded enforcers led by Aro (Michael Sheen), set out to destroy the Cullen brood and consolidate their power. In an attempt to head off bloody conflict, the Cullens frantically begin to gather witnesses from vampire clans all over the world who can attest to Renesmee's true nature and harmlessness.
Returning director Condon, who seemed especially ill at ease with action in the previous film, here imparts a better sense of spatial understanding. The film's rip-roaring snowy field battle sequence, testing the limits of its PG-13 Stateside rating, represents its indisputable high point. Multiple character arcs and conflicts are paid off in this fulfilling set piece.
And with some characters shunted to the side, scribe Melissa Rosenberg, a veteran of the entire series, mostly avoids the sorts of pitfalls in simple logic that hamstrung earlier efforts. It's only when the movie seems to reach outside of its prescribed genre confines for grander statement ("Only the known is safe, only the known is tolerable," intones Aro cunningly) does it seem especially ridiculous.
Unfortunately, many other problems from the series' prior installments still persist. Most notable among these is the unconvincing deployment of special effects. A big part of the book concerns Renesmee's advanced development, in which she ages at a quickened clip. Early on, the filmmakers attempt to convey this through facial mapping (putting an older child's face on a younger baby's body), but it comes across as silly, and phony looking. The scale and shimmery details of the film's wolves also sometimes seems off.
Continuing its predecessors' dispiriting trend, the film uses light rock songs under entire scenes, refusing to trust its actors or allow viewers to feel more naturally for themselves. This unrefined, saccharine approach is best suited for the small screen.
The acting styles of the main players (and especially Sheen, who draws big responses of his own with a couple reactions) still tilt a bit toward manifestly expressive — and in some ways this works, since the Twilight series is essentially a metaphor for the overwhelming hormonal surge of young love. But if there isn't much room or encouragement for nuance built into the story, it is Stewart who most blossoms, delivering a more grounded and self-assured performance that reflects the settled heart of a perfectly requited love. Her journey is ably sketched, and that identification will be highly pleasing for series devotees.
Production companies: Temple Hill Productions, Sunswept Entertainment
Domestic distribution: Summit Entertainment
Producers: Wyck Godfrey, Karen Rosenfelt, Stephenie Meyer
Executive producers: Marty Bowen, Greg Mooradian, Mark Morgan, Guy Oseary
Co-producer: Bill Bannerman
Screenplay: Melissa Rosenberg, based on the novel Breaking Dawn by Stephenie Meyer
Cinematography: Guillermo Navarro
Editors: Virginia Katz, Ian Slater
Production designer: Richard Sherman
Music: Carter Burwell
Visual effects supervisor: Terry Windell
Music supervisor: Alexandra Patsavas
Website: www.BreakingDawn-TheMovie.com
Main cast: Kristen Stewart, Robert Pattinson, Taylor Lautner, Billy Burke, Peter Facinelli, Elizabeth Reaser, Kellan Lutz, Nikki Reed, Ashley Greene, Jackson Rathbone, Michael Sheen, Dakota Fanning, Mackenzie Foy, Julia Jones, Booboo Stewart, Lee Pace, Christian Camargo, Mia Maestro, Casey LaBow, Maggie Grace, MyAnna Buring, Joe Anderson, Omar Metwally, Rami Malek, Guri Weinberg, Noel Fisher, Wendell Pierce