Dir: Cameron Crowe. US. 2010. 90mins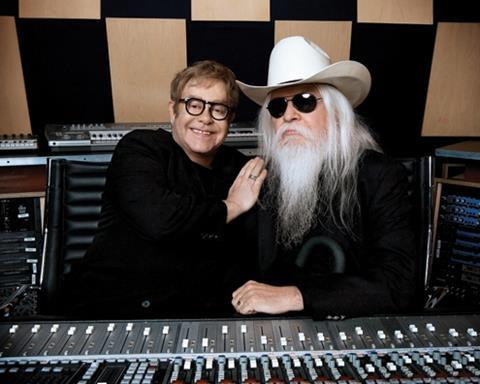 The Union, Cameron Crowe's first non-fiction feature, is a chronicle of the making of Elton John's last album, with piano legend Leon Russell, piling on the praise from the heart and avoiding anything negative about the piano legend.
Drama does come in rare moments - out of the hospital, Russell brings Sir Elton to tears with a hymn-like rendition of In the Hands of the Angels.
The Union could be a festival crowd-pleaser, as it was at Tribeca's opener (with a live post-film concert by Elton John), yet its future is likely to be on television and as a DVD in special editions of The Union (available from Decca Records) release. Elton John's fans are everywhere - as are Leon Russell's - so those products are likely to have a global market.Theatrical prospects for this making-of music doc are limited.
Crowe's film begins with John's heartfelt declaration that Russell was his inspiration – and the world's best piano player. The journey through the recording takes us from their reconnection after 38 years to an emergency brain operation that took Russell away from the shoot (almost away from the world, we're told), to Russell's recovery as the album takes shape with guest stars piling into the studio. The finale is a concert at the Beacon Theater in New York.
Even with his background in commercial features, Crowe does not try to give his doc a fictional narrative shape. There's not even an overture. Almost all of it is shot in the studio or onstage, with archival footage and stills a running illustration of what is mostly an Elton John monologue.
There's a lot that's missing from this hagiographic portrait, which seems to forget, forgive or omit any flaws that its subject might have had. Russell was a rock and roller, after all.
We don't learn much about why Sir Elton did not speak to Russell for 38 years before reconnecting with his hero to make the album and the documentary . We also don't know a deeper secret. Where was Russell all those years? Was it drugs and booze, or family, or just rock and roll oblivion?
Russell's fans will want more, while those who don't know Russell won't learn much from John's endless accolades and a scrapbook of images and music clips.
Editing by Kevin Long, a recent USC grad, packs in decades of history, with a special flourish of splicing together John's performances of the same song over the years to remind the audience how long the singer's journey has been.
And there are revelations. Elton John reports that Hal Ashby offered him the role of Harold in Harold And Maude (1971). John turned it down because it would have taken him away from promoting his music career. Russell explains how, as a teenager, he took his name from a roadie named Leonel, in order to fake an identity that would admit the underage pianist to bars where he played. Even rock nerds will be awed by his mountain of credits – from the Crystals (arranged by Phil Spector), to Simon and Garfunkel, to Gary Lewis and the Playboys, to Frank Sinatra, Wayne Newton, Doris Day, and the Beach Boys. Brian Wilson, who sings on a track in the film, would have been an interview worth including.
Cinematographer Nicola Marsh's studious camera gives us a reality check on the glamour of studio work in the interplay between the animated Sir Elton and the somnolent post-operative white-bearded Russell, who is often under a blanket.
Drama does come in rare moments - out of the hospital, Russell brings Sir Elton to tears with a hymn-like rendition of In the Hands of the Angels. When backup singers arrive to rock their way through Monkey Suit, Russell is fully alive, his fist pounding to the beat as if they were all in a honky-tonk. Sir Elton is proved right. Leon Russell is a man with music in his veins.
Production companies/backers: Cameron Crowe, Johnny Barbis
International sales: CAA,
US Distributor: Decca Records (In cd package)
Producers: Cameron Crowe, Michelle Panek
Executive Producer: Johnny Barbis
Co-Producers: Andy Fischer. Morgan Neville
Cinematography: Nicola Marsh
Editor: Kevin Long
Interviewees: Elton John, Leon Russell, T-Bone Burnett