Dir: Niki Caro. New Zealand/France. 2009. 126 mins.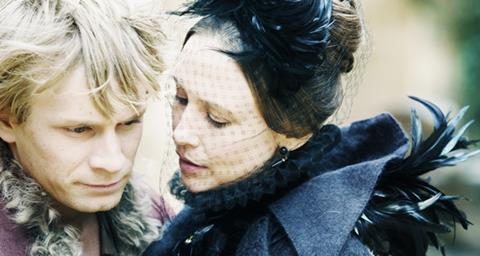 Niki Caro's fourth feature is a fantastically ambitious adaptation of Elizabeth Knox's bestselling, arguably unfilmable novel. An epic story spanning several decades in early 19th century France and featuring an angel as one of the lead characters, The Vintner's Luck falls midway between absurd and engrossing, misjudged and intelligent.
Caro convincingly captures the harshness of working the land
Caro's strong visual style and firm control over the emotional core of the material hold it all together, aided by a fine central performance from Jeremie Renier. But Caro can't avoid the unintentional humour derived from the angel, some of the dialogue, and the thick accents of the French actors speaking in English.
In fact, whether French audiences will embrace a local story acted by top local stars in English will be a test for future European films shooting in English.
Renier plays Sobran Jodeau, a young peasant working as a reaper in a vineyard of the local chateau who has designs on becoming a vintner himself. One night in 1808 he is visited by an angel called Xas (Ulliel, complete with enormous wings) who advises him in his life and his love for local girl Celeste (Castle-Hughes) and promises to meet him one year later in the same spot to celebrate their marriage.
Over the years, Xas educates Sobran in the art of winemaking and gives him some vines from his own garden in return for a promise to meet him every year on the same night.
But while the angel's interest gives him strength, it doesn't help Sobran with his struggles to start a vineyard, support his family or a disastrous stint in the army. His father dies, as does one of his children. The angel tells him that suffering is essential for a vintner ("Life is pain and pleasure," coos Ulliel. "You need both.").
Gradually Sobran's own wines start to win favour and when the Count who owns the chateau dies, his niece and heir the Baroness Aurora De Valday (Farmiga) hires him to be the chateau's chief winemaker. Together he and the Baroness enjoy enormous success, provoking Celeste's jealousy.
But things start to go sour for Sobran when Xas reveals he is a fallen angel (prompting the film's most laughable line: "Some angels make their home in hell," he says. "I have a small garden there.")
Playing the drama straight and working with gritty, sometimes handheld camerawork by Denis Lenoir, Caro convincingly captures the harshness of working the land while creating a sensual mythology around the wine-making. Renier and Farmiga are both strong, although Castle-Hughes is too young for her decades-spanning part and Ulliel struggles to get past the dialogue of his French-accented fallen angel. "You smell of snow," Sobran tells him. "It's the high altitude," Xas replies, matter-of-factly.
To sign up for Screen's weekly Reviews Newsletter with all the week's new releases, internationalopenings and full festival reviews delivered free to your mailbox every Friday, please click HERE
Production companies
Ascension Film
Kortex Acajou Films
International sales
NZ Film
+ 644-382-7682
Producers
Robin Laing
Pascal Judelewicz
Ludi Boeken
Laurie Parker
Niki Caro
Screenplay
Niki Caro and Joan Scheckel, based on the novel by Elizabeth Knox

Cinematography
Denis Lenoir

Production design
Grant Major
Editor
David Coulson
Main cast
Jeremie Renier
Gaspard Ulliel
Vera Farmiga
Keisha Castle-Hughes