Dir/scr. Claire McCarthy. Australia, 2009, 108 minutes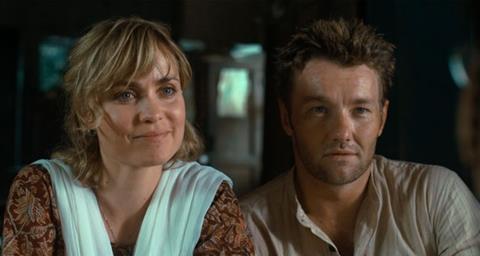 An Australian couple seeking to heal what's wrong in their lives by adopting a child in India run head-on into a stolid bureaucracy in The Waiting City, Claire McCarthy's second feature which is a tender look at loss and self-knowledge.
Parents thinking about adopting a foreign child might do well to take look at The Waiting City
A poignant, perceptive tale of one couple's effort to have a child to give their lives meaning, The Waiting City can draw on a sizeable Australian audience (the story is based on a number of Australian adoption experiences in India), and with noted Indian actor Samrat Chakrabarti playing the couple's hotel guide and driver, this could also do well in the Indian market.
In McCarthy's own script, Fiona, an irritably ambitious corporate lawyer (Radha Mitchell), arrives in Kolkata with Ben, her failed singer/guitarist husband (Joel Edgerton). With their luggage lost, their strained relationship frays afresh as agency clerks announce new delays to see the child whom they have waited two years to adopt. The appearance of a pretty musician friend (Isabel Lucas) from Ben's past compounds the stress.
Culture shock becomes culture clash as their bemused guide, Krishna (Chakrabarti), offers an Indian's frank and unwelcome reflections on adopting a child from another culture. Fiona and Ben quarrel and part company before finally reaching the baby's orphanage. The daughter whom they are to adopt, little Lakshmi, is adorable, but gravely ill. In attending to the child's suffering, the two reconcile, although worse news is yet to come.
In The Waiting City, McCarthy finds a balance between lampooning local annoyances and probing the real motivations of would-be parents longing for a child.
As Fiona and Ben, Mitchell and Edgerton are so convincing as self-involved adults stumbling into a huge responsibility (and a foreign labyrinth) that McCarthy needs no exegetical scenes about problems inherent in the adoption process. Mitchell rings true as a ballsy lawyer, fused to her computer, negotiating deals as she prepares to be a mother. Edgerton oozes with the vulnerability and frustrated anger of the weaker half of their partnership.
Playing Krishna as a young father beset with his own stresses, Chakrabarti brings an agility to the film's encounter of two cultures, particularly regarding raising children. Parents thinking about adopting a foreign child might do well to take look at The Waiting City.
That colourful crowded city is not over-exoticised by McCarthy. With DP Denson Baker, the director has shaped her film to begin with those unsettling aspects of a noisy metropolis that first strike visitors, and then shift gently into a gradual revelation of sounds and images, most of them intimate, that come with a longer stay. By the time Fiona and Ben adopt a country, McCarthy makes sure you see and feel why.
To sign up for Screen's weekly Reviews Newsletter with all the week's new releases, internationalopenings and full festival reviews delivered free to your mailbox every Friday, please click HERE
Production Companies
See Pictures
Sol Films
International Sales
H2O Motion Pictures
+ 1 310 880 9372
Producers
Jamie Hilton
Claire McCarthy
Cinematography
Denson Baker
Editor
Veronika Jenet
Production Design
Pete Baxter
Music
Michael Yezerski
Main Cast
Radha Mitchell
Joel Edgerton
Samrat Chakrabarti
Isabel Lucas
Tillotama Shome