Dir: Akiva Schaffer. US. 2012. 101mins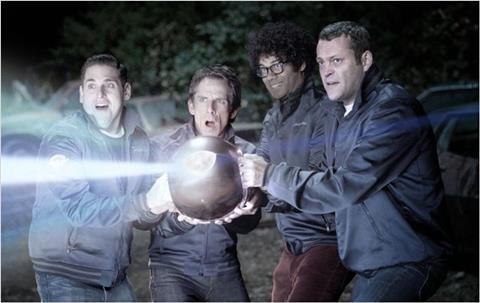 A wearying, lackluster sci-fi comedy about a group of suburban men who form a neighborhood watch group in the wake of a murder, and then get caught up in defusing an alien invasion plot, The Watch is a premise in search of a compelling story, and an exemplar of indulgent improvisation gone wrong and too long. Reteaming Ben Stiller and Vince Vaughn for the first time since 2004's Dodgeball: A True Underdog Story, the movie is a collection of small handful of ideas strung out into set pieces, and a superb example of the pitfalls of Hollywood studio comedy-by-committee.
Excepting a few odd throwaway quips here and there, The Watch also marks a low point for its performers.
Originally titled Neighborhood Watch, the movie underwent a massive rebranding in the wake of the much publicized George Zimmerman/Trayvon Martin shooting in Florida, in which a supposedly civic-minded man patrolling his locality killed an unarmed teenager. That association may dampen audience enthusiasm, but more problematic will be the movie's critical lashing and deadly word-of-mouth. Internationally, the localized-alien-attack angle should help give The Watch a boost.
The film unfolds in Glenview, Ohio, a small, well-manicured town where Evan (Stiller) is manager of the local Costco, a discount superstore. When his night patrolman is brutally murdered and found amidst strange green goo, the local police, headed up by Sergeant Bressman (Will Forte), seem ineffectual at best. So Evan starts up a community watch to try to figure out the killer. Joining him are gregarious family man Bob (Vaughn), sullen police academy washout Franklin (Jonah Hill) and quirky divorce Jamarcus (Richard Ayoade, writer-director of Submarine, and an established comedy actor in the UK via hit comedy series The IT Crowd, in which he starred alongside Bridesmaids star Chris O'Dowd).
During their investigations, the group finds a strange orb that emits a concentrated beam of energy. They blow up a cow and some farm equipment, and then confirm the presence of extraterrestrial life. Naturally, it's but a day before the aliens beam out a signal of their location to trigger a full-fledged attack, so after some requisite arguing threatens to tear the group apart, Evan and friends come together to try to stop the invasion before it happens.
Marked by a plodding structure and too much deference to the showy instincts of its stars, The Watch conjures up none of the loony, unhinged delight of Hot Rod, Akiva Shaffer's previous directorial effort. The humdrum film's technical credits are fine, insofar as the special effects, blending practical creature effects and CGI, serve the story well as conceived. When required to tackle scenes with much action or movement, however, Shaffer seems out of his element.
Jared Stern's screenplay, punched up by Seth Rogen and Evan Goldberg, is a seeming mishmash of different drafts that gives wide berth to its stars. Various narrative set-up beats for its investigation plot are poorly integrated, and The Watch scrupulously shuttles its female characters to the side, all to make room for riffing about matching club jackets and more jokes about male ejaculate.
One story strand of misdirection, involving a creepy neighbor (Billy Crudup), seems to think it's much cleverer than it is. A couple other ideas with greater comedic potential — that the aliens' brains are located in their groins, for instance — rate only wan, throwaway joke payoff in the movie's jumbled, mad-dash finale, which is a shrug-inducing rehash of sci-fi clichés.
Excepting a few odd throwaway quips here and there, The Watch also marks a low point for its performers. Hill, coming off a winning streak that includes Moneyball and 21 Jump Street, never quite communicates a convincingly rooted mental state for his character. Stiller and especially Vaughn, meanwhile, just recycle their usual shtick as performers — the former's technique rooted in beleaguered romantic humiliation (Evan is impotent, though he hasn't yet told his wife), and the latter's in manic verbosity. To viewers, it will all seem a bit too familiar.
Production companies: Dune Entertainment, 21 Laps, in association with Ingenious Media, Down Productions and Big Screen Productions
Domestic distribution: 20th Century Fox
Producer: Shawn Levy
Executive producers: Dan Levine, Monica Levinson
Co-producers: Jeffrey JP Wetzel, Billy Rosenberg, Tom McNulty, Blondel Aidoo
Screenplay: Jared Stern and Seth Rogen & Evan Goldberg
Cinematography: Barry Peterson
Editor: Dean Zimmerman
Production designer: Doug Meerdink
Music: Christophe Beck
Visual effects supervisor: Kelly Port
Website: www.JoinTheWatch.com
Main cast: Ben Stiller, Vince Vaughn, Jonah Hill, Richard Ayoade, Rosemarie DeWitt, Will Forte, Doug Jones, R. Lee Ermey, Nicholas Bruan, Joseph A. Nunez, Mel Rodriguez, Erin Moriarty, Billy Crudup