Dir: Nat Faxon, Jim Rash. US. 2013. 96mins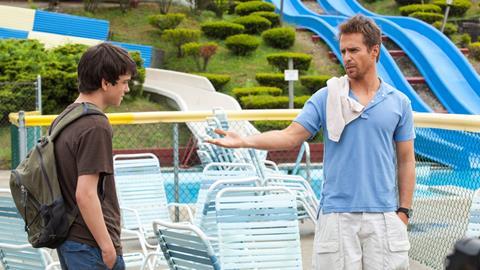 Coming of age at the beach in the summer is an old recipe. The Way, Way Back warms it over without new seasoning, but it seems a savvy box office formula. Bland, yet warmhearted and tender in the face of emotional calamity facing its young characters, the comedy written and directed by Nat Faxon and Jim Rash promises to be an indie tentpole, targeting the youth and adult audiences with its vacation story of outcast teens struggling free of the dysfunctional adults in their lives. If their directorial debut isn't Little Miss Sunshine, at least it's a family film with a tiny dose of wit – note tiny. With a June opening, it could play throughout the summer.
This is not a film bristling with edgy adolescent barbs, but it is packed with ingredients that could draw an audience.
It's a boilerplate story. Pam (Toni Colette) and her new domineering faultfinding boyfriend, Trent (Steve Carell), have arrived at Trent's family summer house with Pam's sullen son, Duncan (Liam James). Next door is Susanna (AnnaSophia Robb), whose libidinous mother drinks and whose gay father just came out and took off. Escaping Trent's house on a bike, Duncan finds a dilapidated waterpark nearby, where clownish friendly Owen manages a staff of misfits and hires Duncan. As the adults drink, quarrel and cheat, Owen and Susanna find each other. Owen approves. Eccentricity triumphs.
This is not a film bristling with edgy adolescent barbs, but it is packed with ingredients that could draw an audience. The angrily aloof Duncan is cut from the cloth of the silent Dwayne (Paul Dano) in Little Miss Sunshine. Susanna next door looks and dresses like a snobbish beach girl, yet she's drawn to Duncan's uncommunicative oddness.
As Owen, Rockwell is an unkempt adult with the sense of humor of a teenager screaming for attention – the kind of grown-up whom children love, and other adults can't bear. His jokes and gags are as annoying as a crying baby, but kids who want to annoy their parents will appreciate him.
Carell, as a know-it-all jerk who orders Duncan around, couldn't be playing more to type. He may not always be able to get a crowd to laugh, but he knows how to make an audience hate him. It works here.
The same youth audience will warm to Duncan's emergence from his shell as a waterpark cleaner who loves being the butt of everyone's jokes, and the film's humanising of Susanna, an ice-girl attracted to a quirky boy, is the kind of romantic revenge of the nerds where most kids can see themselves somewhere. Those equations will work if the audiences don't look too closely at the manipulative superstructure of the strategy concocted to win them over.
The filmmakers (both actors, who co-wrote The Descendants with Alexander Payne) don't make much of the New England seaside location's beauty. They want the audience to be involved with the characters. The lighting changes from day to day, probably the result of a low-budget production schedule that couldn't wait for the weather. No surprise that the cinematography looks like whatever worked that day. The targeted public won't mind, and likely won't even notice.
Production companies: Sycamore Pictures, Doubleyou Inc., Oddlot Entertainment, What Just Happened Productions
International Sales: William Morris Endeavor
US Distributor: Fox Searchlight Pictures
Producers: Kevin J. Walsh, Tom Rice
Executive Producers: Ben Nearn, Gigi Pritzker, George Parra
Cinematography: John Bailey
Editor: Tatiana S. Riegel
Production designer: Mark Ricker
Main cast: Steve Carell, Toni Collette, Allison Janney, Sam Rockwell, Maya Rudolph, Liam James, AnnaSophia Robb