Dir: Jeremy Garelick. US. 2015. 101mins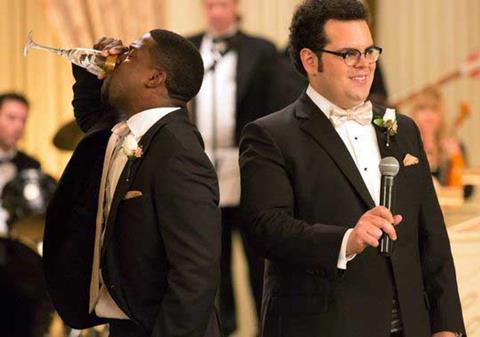 Part inter-racial bromance, part Hangover-style gross out romp, The Wedding Ringer seems largely designed to broaden the appeal of Kevin Hart, the sharp-tongued comic who helped pull big black audiences into Think Like a Man and Ride Along. Teaming Hart with the nebbishy Josh Gad might have the desired effect demographics-wise, but this patchy comedy doesn't make the best use of either talent.
Hart is enjoyably punchy in a role that might have been written for Eddie Murphy's heyday.
In the US, where the R-rated film opens on Jan 16 – at the start of the Martin Luther King holiday weekend – Sony label Screen Gems may beat Think Like a Man Too's $65m domestic take but will have to work hard to match Ride Along's $145m. Sony's international arm will have to work considerably harder outside the US, where even Ride Along managed only $19m.
Gad (best known from The Internship) plays likeable but awkward groom-to-be Doug, who's about to marry girl of his dreams Gretchen (Kaley Cuoco-Sweeting, from TV's The Big Bang Theory). Hart's Jimmy runs a company that provides friendless fiances with fake best men – though in this case Doug needs Jimmy to pull of the 'Golden Tux' and come up with a complete team of groomsmen as well.
Written by The Break-Up duo of Jeremy Garelick and Jay Lavender and directed, as his first feature, by Garelick, the film gets some fairly funny moments out of Doug and Jimmy's interaction with Gretchen's family and the ragtag gang of wedding day stand-ins. But a couple of extended sequences feel like comic padding and the serious moments that emerge as Doug and Jimmy begin to bond are pretty ineffective.
Hart is enjoyably punchy in a role that might have been written for Eddie Murphy's heyday, but Gad doesn't have the comedic presence to stand up to his on screen foil.
Production companies: Screen Gems, Miramax, Will Packer Productions
International distribution: Sony Pictures Entertainment
Producers: Will Packer, Adam Fields
Executive producers: Zanne Devine, Jeremy Garelick, Jay Lavender, Glenn S Gainor, Ben Waisbren
Screenplay: Jeremy Garelick & Jay Lavender
Cinematography: Bradford Lipson
Editors: Jeff Groth, Shelly Westerman, Byron Wong
Production designer: Chris Cornwell
Music: Christopher Lennertz
Website: https://www.facebook.com/WeddingRinger
Main cast: Kevin Hart, Josh Gad, Kaley Cuoco-Sweeting, Ken Howard, Cloris Leachman, Jenifer Lewis, Mimi Rogers. Olivia Thirlby