Dir: Larysa Kondracki. Canada-Germany. 2010. 105mins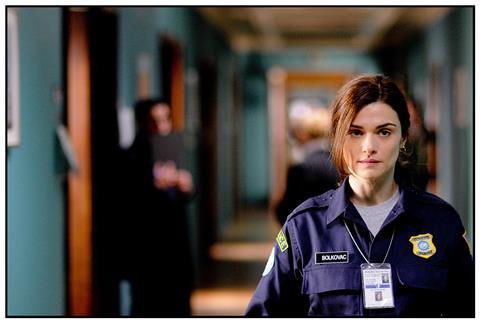 Rachel Weisz shines with grim-faced determination in the brutally important film The Whistleblower, based on the true story of a United Nations peacekeeper who discovers friends and colleagues are involved in sex trafficking in post-War Bosnia. The film is a tough watch, not so much through its violence (much of which is implied), but because the subject matter is so harrowing.
Rachel Weisz is quite superb as the tough but sensitive cop out of her depth in the wilds of post-War Bosnia.
Oscar-winner Weisz will make the film an intriguing option for distribs, and press will be guaranteed given the real-life story aspect. Though extremely well made, The Whistleblower is a little too earnest at times and would have benefited with a greater sense of peril to its forthright lead character. But it is a watchable and provocative film that should attract strong reviews.
The film opens in 1999 with single-mother Nebraska cop Kathryn Bolkovac (Weisz) struggling to make money needed to keep in touch with her daughter, who has moved to another state with her father. She takes a well-paid job with private contractor Democra Security, which hires US police officers to man UN peacekeeping missions around the world.
Arriving in Bosnia she quickly rises through the ranks given her practical policing knowledge and sense of wanting to do right, and is recruited to run the UN's Gender Office, which investigates sexual assault, domestic abuse and sec trafficking.
She comes into contact with two Ukrainian girls duped into travelling to Bosnia and subsequently kidnapped and forced into sexual slavery. One girl, Raya (Roxana Condurache) agrees to testify against her kidnappers and the UN workers that have abused her and are complicit to the sex trafficking. But she is kidnapped again, and later killed, leaving Kathryn more enraged about the world of sex-trafficking and building evidence against various UN employees.
She has the support of diplomat Madeleine Ross (Vanessa Redgrave), but finds her investigations blocked by both Democra and the UN itself. She manages to escape with the evidence, and in 2000 publically blows the whistle in the media on the UN and US State Department cover-up.
Rachel Weisz is quite superb as the tough but sensitive cop out of her depth in the wilds of post-War Bosnia, while Vanessa Redgrave offers up a nice – virtual cameo – performance as a woman trying to operate using diplomatic solutions, but constantly hampered in her efforts. Monica Belluci, though, is surprisingly muted as Laura Levin, the woman in charge of repatriating those caught up in the conflicts, delivering her lines rather ponderously and lacking her usual charisma.
The Whistleblower is a depressingly fascinating real-life story, and is a film that will stir emotions and focus attention (once again) on an important subject. It is efficiently directed by Larysa Kondracki, who – perhaps appropriately – lets the real fact tell the story rather than resorting to more simplistic movie devices. There are no gun battles or fist fights…merely one woman trying to do what is right.
Production companies: Whistleblower Canada, Barry Films
International sales: Voltage Pictures, www.voltagepictures.com
Producer: Christina Piovesan, Celine Rattray
Executive producers: Amy Kaufman, Sergei Bespalov, Nicolas Chartier
Co-producers: Benito Mueller, Wolfgang Mueller
Screenplay: Eilis Kirwan, Larysa Kondracki
Cinematography: Kieran McGuigan
Main cast: Rachel Weisz, Vanessa Redgrave, Monica Belluci, David Strathairn, Nikolaj Lie Kaas, David Hewlett, Benedict Cumberbatch