Dir/scr: Alice Rohrwacher. Italy-Switzerland-Germany. 2014. 110mins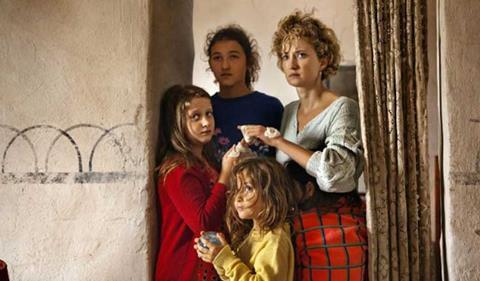 A rich, strange mix of coming-of-age film and troubled modern pastoral, The Wonders proves that Alice Rohrwacher's spikily original feature debut, Corpo Celeste, was no flash in the pan. Delving partly into the director's own family background, The Wonders (Le Meraviglie) captures something profound about the passage to adulthood as a mix of hormonal drama and dream state. Anchored by a fine cast, dominated by the compellingly natural performance of first-time Romanian-Italian actress Alexandra Lungu in the central role of Gelsomina, this resonant film will place Rohrwacher firmly in the canon of Italian directors to watch, a decade on from the emergence of festival darlings Paolo Sorrentino and Matteo Garrone.
On one of its many levels, The Wonders is a film about the challenges of growing up in an unorthodox family.
Monica Bellucci's turn as a past-her-sell-by-date TV soubrette should not kid anyone about The Wonders' target audience: it's resolutely arthouse, though at the wider end of the spectrum, and with solid international potential for curious, patient viewers. If La Grande Bellezza was showy modern opera, this is intimate contemporary chamber music.
On one of its many levels, The Wonders is a film about the challenges of growing up in an unorthodox family. Twelve-year-old Gelsomina (who bears little resemblance in looks or character to the eponymous heroine of Fellini's La Strada) is the oldest daughter of a couple of former student revolutionaries, he German and she Italian, who have moved to the Tuscan countryside to keep bees and build a private verison of utopia. But it's under threat from hunters, from non-organic neighbours whose weedkillers kill the bees, from heath and safety bureaucrats, and most of all from the sheer unremitting drudge of farm work.
Family patriarch Wolfgang (Belgian dancer Sam Louwyk) is a taut, feral soul at war with the world and the daughters he loves; the mother, played by the director's older actress sister Alba, is stressed and overworked, and Gelso (as she is abbreviated) has stepped into the breach, mothering her sisters and helping dad out with the bees. Home is a crumbling, draughty farmhouse with floor-mattresses for beds – there's even one outside in the field, and it seems to be a nightly lottery as to who sleeps where.
The emotional arm wrestling match between Wolfgang and Gelso, both stubborn loners in their own ways, spills over into Gelso's manipulative-affectionate rapport with the next sister down, plump mother's girl Marinella (Graziani). Two younger sisters run wild, on the fringes of Gelso's emotional attention. And then there's Cocò (Timoteo), a wiry, lonely German woman who lives and works with the family. Is she a relative, a friend? For Gelso, as for the audience, she's just there.
Two new plot balls eventually thicken the blend: the first is the family's seaside stumble onto the location shoot of a promo for Il Paese delle Meraviglie, a madly kitsch 'best farm produce' local TV talent show that raids the area's Etruscan past with more artistic licence than a 1960s peplum movie. Bellucci plays Milly Catena, the fairy-godmother presenter of the show, a woman mutely startled by her own superficiality, but seen as an awesome marvel by the daughters. Second turn-up is the arrival of a German juvenile offender, Martin (Logrono), sent to work on the family farm as part of a rehabilitation programme.
Rohrwacher listens to her characters, lets them take the story in unexpected directions, at the same time building resonance out of recurrent symbols and triggers. One of these is the slow drip of honey from a vat into a bucket that needs changing before it's full – a country ritual, a promise of sweetness, but also a distillation of paternal tyranny. Bees are both threats and wonders: they cannot be relied on to stay in the hive, but can also be persuaded to perform miracles – emerging from Gelsomina's mouth in a party trick that gives the film its Italian-release poster image. The film is also about the way language unites and divides. Gelso's parents talk to each other in French when they don't want the kids to hear; he reverts to German when angry; Martin doesn't speak at all, but can whistle beautifully.
Cinematographer Helene Louvart's tactile photography channels both the poetry and harshness of the rural setting, sensitively building up a point of view that is never univocally Gelso's, as if mirroring the protagonist's own transitional status: half a part of the family that nurtured her, half becoming her own woman. Rarely has the suspended state of pre-adolescence been captured so instinctively on film.
Production companies: Tempesta, Rai Cinema
International sales: The Match Factory, www.the-match-factory.de
Producers: Carlo Cresta-Dina, Karl Baumgartner, Tiziana Soudani, Michael Weber
Cinematography: Helene Louvart
Editor: Marco Spoletini
Production designer: Emita Frigato
Main cast: Alexandra Lungu, Sam Louwyck, Alba Rohrwacher, Sabine Timoteo, Agnese Graziani, Luis Hulica Logrono