Dir: Edgar Wright. UK. 2013. 109mins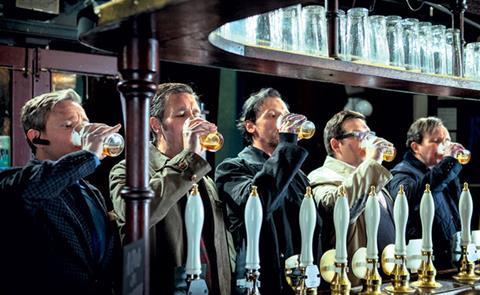 The signature motifs of male camaraderie, gags, fights, dubious life decisions, deliriously funny movie-themed moments of humour and – most importantly – much boozing in pubs, dovetail perfectly in The World's End, a smart, funny and wildly enjoyable comedy romp that re-teams director Edgar Wright with actors Simon Pegg and Nick Frost following on from their hits Shaun Of The Dead (2004) and Hot Fuzz (2007).
It is great to see Nick Frost really come into his own as the gentle and loyal man whose tolerance is supremely tested. He also turns out to be the best fighter of the bunch, and engages in some almost balletic fight sequences that are a real delight.
The whole end of the world thing has been mined at the movies pretty well over the last few months, with recent comedy This Is The End setting the apocalypse comedy bar pretty high, but this very British spin on the genre takes it off in all new – and often hilarious – directions, and shows that Simon Pegg and Nick Frost are one of he best comedy double acts around. The film opens in the UK on July 19, prior to an August US and worldwide release.
As was shown with Shaun Of The Dead and Hot Fuzz, the balance of self-aware humour, film references and a love for matey British bonding is a sure fire winner, with the films developing cult audiences around the world. Edgar Wright has a sure hand and a terrific filmic knowledge, and he and Simon Pegg have again crafted a script that goes back to the bare essentials of friendship in the face of adversity.
In Shaun…Pegg and Frost had to tackle zombies and in Hot Fuzz it was gun-crazed cops and vengeance-mad townspeople, but in The World's End it is power-mad aliens when have taken over bodies of the locals. Key film references this time round include John Carpenter's 1982 film The Thing and Bryan Forbes' 1975 film The Stepford Wives.
The World's End opens in one fateful evening on June 22, 1990, in the suburban British town of Newton Haven, with five young men, fresh from finishing college and embracing the fact they are old enough to drink, who decide to attempt an epic pub-crawl – 12 pubs in "The Golden Mile". Despite their enthusiasm they fall short and never make it the final pub on the hallowed list, The World's End.
Some 20 years later and the five have all left their hometown and are now husbands, fathers and men with careers…apart from their ebullient jack-the-lad self-appointed leader Gary King (Pegg), who is a 40 year-old that has never outgrown his teenage years.
The irrepressible Gary manages to sweet talk the others into reconvening in Newton Haven to have another go at cracking their epic pub-crawl. He manages to convince Steven (Paddy Considine), Oliver (Martin Freeman) and Peter (Eddie Marsan) pretty easily, but the harder nut to crack is his one-time best friend Andy (Frost), who hasn't spoken to him in years, but even he grudgingly agrees.
So one warm Friday afternoon sees the old gang reunited and set off on their much-anticipated pub-crawl – pubs to be drunk at (in order) are The First Post, The Old Familiar, The Famous Cock, The Cross Hands, The Good Companions, The Trusty Servant, The Two Headed Dog, The Mermaid, The Beehive, The Hole In The Wall and The World's End – but their journey is as much about reconciliations and recriminations about the past as it is the frothing pints of ale.
The first point of conflict comes when Oliver's sister Sam (Rosamund Pike) – for whom both Gary and Steven each still carry a torch – arrives in town, but as the booze starts flowing the gang come to realise that there is something more than a little odd about the grim faced and rather plodding townspeople. And when they inadvertently get into a fight with some local youths in a pub toilet, instead of blood on their hands they have a strange blue substance, and discover the youths are strange robotic types rather than typical disenfranchised teens.
As they ineptly try to blend in, most of the gang are all for heading to Gary's car – the same clunky Ford he had as a teen, with the same mix tape in the cassette player – and driving back to London, but Gary is convinced they must not draw attention and should finish their crawl to The World's End. Their journey through the list of pubs gets increasingly dangerous as they find themselves attacked from all sides, and with monstrous life-sucking killers hot on their heels it becomes apparent that the struggle is not just theirs but the whole of mankind - and reaching the final pub is the last of their worries.
In a nice change from his usual genial character roles, Simon Pegg's Gary is a pretty seedy soul – a man lost in the past, who is selfish and bombastic (despite being well meaning in his own way), and certainly a challenge for his old friends to feel sympathy for. His relationship with Andy is at the core of film, and it is great to see Nick Frost really come into his own as the gentle and loyal man whose tolerance is supremely tested. He also turns out to be the best fighter of the bunch, and engages in some almost balletic fight sequences that are a real delight.
Paddy Considine, Martin Freeman and Eddie Marsan all offer up subtle and engaging performances, though they do drift in and out of the film at times (just the nature of having so many key characters) while Rosamund Pike is wonderfully feisty and more than holds her own in amidst the beer-fuelled male bonding sessions. There are a smattering of cameos – critics have been asked not to reveal – some predictable and one not, but they don't detract from what is essentially the Edgar Wright/Simon Pegg/Nick Frost show. They have delivered a smart, savvy, entertaining and genuinely funny film…and while the ending is familiar, it is also reassuringly correct and impressively staged.
Production companies: Big Talk, Working Title
Distribution: Universal Pictures
Producer: Nira Park, Tim Bevan, Eric Fellner
Executive producers: James Biddle, Edgar Wright, Simon Pegg, Nick Frost, Liza Chasin
Co-producer: Mairi Bett
Screenplay: Edgar Wright, Simon Pegg
Cinematography: Bill Pope
Editor: Paul Machliss
Production designer: Marcus Rowland
Music: Steven Price
Website: www.theworldsendmovie.co.uk
Main cast: Simon Pegg, Nick Frost, Paddy Considine, Martin Freeman, Eddie Marsan, Rosamund Pike, Michael Smiley