Dir/scr: Charlie Stratton. US. 2013. 101mins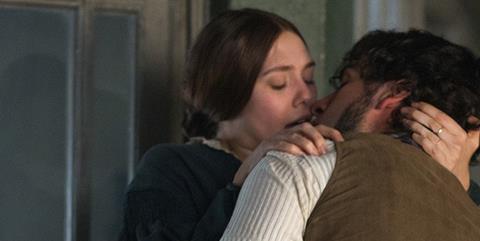 A beautifully mounted and impressively intense adaptation of Émile Zola's tale of adultery and murder in 19th century, Therese is a remarkably hard-boiled film that is given its strength by a remarkably mature performance by Elizabeth Olsen as the haunted, passionate and ultimately tormented Therese. It is a dark and brooding costume drama that tells its tale of sexual obsession and dark plots with a grim grace.
Elizabeth Olsen makes for a mesmerising Therese, her eyes sad and haunted, but also sparking the concept of love and lust finally entering her life.
This striking adaptation of Émile Zola's Thérèse Raquin pulls no punches as it charts the story of its lead character, a young woman caught in a loveless marriage and cloistered life and who finds deep and passionate love with another man, who whom she plots dark deeds. Charlie Stratton's debut feature is elegantly shot and impressively mannered, and while dotted with moments of dark humour, its intensity and sense of brooding passion is sustained through to its satisfyingly bleak climax.
Zola's story has been a lasting influence on literature – and therefore often cinema – with James Cain's The Postman Always Rings Twice a contemporary variation on Zola's tale of obsessive love and lust and a subsequent murder plot. This version sets the sordid tale well and truly in its original location, with the dank and oppressive back streets of 1860s Paris acting the perfect backdrop for its tale of sex and violence.
As an unhappy child Therese (a terrific performance from Olsen) is deposited with her Aunt (Jessica Lange) and sickly cousin Camille (Tom Felton, with lank black hair an looking a lifetime away from his hiss-worthy role in the Harry Potter films), who she is later forced to marry. When the family moves to Paris they open a small haberdashery – while Camille goes to work in an office – but Therese is still really only there to tend to her Aunt and husband.
Her life is dull and disappointing…that is until Camille brings home Laurent (Oscar Isaac, an old friend and colleague from work). She is drawn to him immediately and the sexual frisson is intense, and before long they are having secret lunchtime trysts with Camille finally finding sexual pleasure and a needy love for Laurent. They want to be together, but their only obstacle to their happiness is her husband.
As violence and murder takes over from lust and longing, Therese finds herself caught in a cycle of nightmare about what she and Laurent have done, with their relationship fading into bitterness and recrimination, especially as Madame Raquin, confined to a chair after a stroke that leaves her unable to speak, begins to realise what these two have done to her son and seeks to try and alert the police.
Elizabeth Olsen makes for a mesmerising Therese, her eyes sad and haunted, but also – when she first meets Laurent – sparking the concept of love and lust first entering her life. She is an actress showing increasing depth and range, and slots easily into this strikingly powerful period drama about characters caught in social constraints but driven by passion and the hope of escape from the drudgery of their lives.
Production companies: Liddell Entertainment, Wonderful Films
International sales: Exclusive Media, www.exclusivemedia.com; LD Entertainment,www.ldentertainment.com
Producers: Mickey Liddell, Pete Shilaimon, William Horberg
Executive producers: Charlie Stratton, Richard Sharkey, Jennifer Monroe
Cinematography: Florian Hoffmeister
Editors: Paul Tothill, Celia Haining, Leslie Jones
Production designer: Uli Hanisch
Music: Gabriel Yared
Main cast: Elizabeth Olsen, Oscar Isaac, Tom Felton, Jessica Lange, Matt Lucas, John Kavanagh, Mackenzie Crook, Shirley Henderson