Dir/scr: Ognjen Svilicic. Croatia-France-Serbia-Macedonia. 2014. 78mins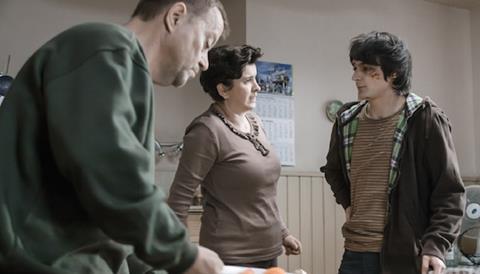 Surprisingly brief and intentionally banal, this plain and ordinary slice of Croatian life hiding in the depths of the Orizzonti section will have its audience wondering for at least the first half hour what it is doing in a prestigious film festival like Venice. But then, while persisting on the same tone and never departing from its insistent portrayal of un-extraordinary people in un-extraordinary circumstances, its intentions gradually come up to the surface.
Dryly making his points, Slivicic's script and direction put simple, familiar facts on the table and invite the audience to reach their own conclusions.
By the end of These Are The Rules (Takva su pravila), when tragedy hits out in the same prosaic manner, this film may very well scare the wits of all the laws-abiding, self-respecting viewers, wherever they are, when they will realise that just like the perfectly righteous characters on screen that have nothing to reproach themselves, they can also become one day, without any warning, the victims of their own meekness. No film to warm the cockles of one's heart, but rather freeze them if anything.
Ivo (Emir Hadzihafizbegovic) and Maia (Jasna Zalica) a lower middleclass couple, live in one of those small cubicle-like flats in Zagreb's rundown high rises. There is nothing in particular to distinguish them from all the inhabitants of all the other apartments of the same kind. They have one son, Tomica (Hrvoje Vladisavljevic), a teenager, who, just like any other teenager, barely communicates with his parents, locks himself in his room, comes home after long nights out when everybody else is going to work. Nothing spectacular or unique about that, either.
One morning he seems to be in a particularly bad mood and when he finally emerges from his room, his lacerated face bears all the signs of having been badly beaten up the night before. Still, nothing exceptional, teenagers do get into brawls and bear their signs for a few days. Naturally, his parents are worried but only to the extent of thinking they should be more strict with him in the future.
But then he faints in the bathroom, is taken to the hospital, and the next thing his parents find out, after a long wait, is that their son suffers from a serious head injury and has been put into an induced coma to allow his body to recuperate (or not, as the doctor tells them before he rushes off to his next patient). Tomica's girlfriend comes to visit and shows Ivo and Maia a clip shot with a portable phone, in which the class bully is beating Tomica up for refusing to shell out the money he was asked for. Ivo takes the clip to the police to complain but is told that the kids are minors, the clip is no evidence, he can lodge a plaint but there isn't much chance anyone would react on it.
All through this, Ivo and Maia behave like any exemplary citizen should, bowing to the police because they are supposed to know the laws, trusting the doctors because they are qualified to care for sick people, standing in line and patiently waiting their turn for all those people behind their counters have been put there for a purpose and they must know what they do. They never raise their voice and never turn a table, they always try to understand and justify the rules and because they accept them in every case, they are so terribly hopeless when faced with an unpredictable disaster. For rules are not made for the unpredictable.
Dryly making his points, Slivicic's script and direction put simple, familiar facts on the table and invite the audience to reach their own conclusions. He refrains from establishing too precise an identity for his characters and there is no fancy adornment - everything is lifelike, simple and clear. This can take place anywhere, to anyone. Hadzihafizbegovic and Zalica are both well known in their own country, but their relative anonymity outside it will no doubt serve the film well, particularly since they play their part with the utmost natural simplicity, toning down any sign of histrionics.
Production companies: Maxima Films, KinoElektron
International Sales; Urban Distribution International, www.urbandistrib.com
Producers: Damir teresak, Janja Kralj
Cinematography: Crystel Fournier
Editor: Atanas Georgiev
Production designer: Ivan Veljaca
Main cast: Emir Hadzihafizbegovic, Jasna Zalica, Hrvoje Vladisavljevic, Veronika Mach