Dir/scr: Cristi Puiu. France. 2012. 158mins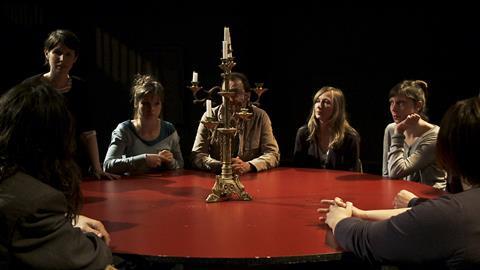 The title says it all, as far as the nature of this project is concerned. Romanian filmmaker Cristi Puiu (The Death Of Mr. Lazarescu) was invited in the summer of 2012 to lead a workshop on movie acting for the Chantiers Nomades in Toulouse, and since he felt that lecturing on the subject would not be particularly productive, he suggested making a movie instead, working with the candidates about to participate in the workshop.
The amazingly flexible camera and sound work are of course essential to create the illusion that the viewer is eavesdropping on actual, authentic conversations.
The result, Three Exercises Of Interpretation(Trois exercices d'interpretation) which was never really intended for public exposure, is not only a fascinating three part study in Rohmer-type acting, but also a work that stands firmly on its own feet, as a smart, intelligent and more often than not relevant dissertation on a number of moral themes, including alternative interpretations of the Holy Gospels.
Though, with rare exceptions, because of its length and themes, commercial distribution seems limited, this is an ideal item for any self-respecting festival, certainly for events dealing with film acting, and indeed, after its presentation at others festivals and its screening at the Transilvania International Film Festival, more invites should be expected.
On his way to the workshop, Puiu picked up as arduous a literary text as he could possibly find on short notice,Three Conversations by Russian poet and philosopher Vladimir Solovyov, choosing it mostly because of its particular structure, five characters discussing between them such weighty matters as war, morality and religion. To wrap up these conversations, Solovyov had added Short Story Of Antichrist - a surprisingly pertinent text since it takes place in the 21st Century, referring to religious wars and false prophets - which Puiu also worked into this film.
Granted, all this does not sound like the kind of stuff that will sell popcorn. And the idea of using such heavy-handed theoretical text for an acting exercise seems ludicrous, to say the least. But Puiu found a way to make all this palatable and even accessible, by taking the text, spreading it between a dozen modern characters and moulding it with their assistance into pleasant, bantering conversations, spiced with updated references of current events, from politics to soccer.
He intelligently follows them around, keeping the flow of conversation going, uninterruptedly. An 18 minutes sequence shot on the one hand and striking reaction silent shots (which are often more eloquent than the voluminous dialogue around them) on the other, offer an always-interesting visual language. As for the actors, they seem to completely forget they are delivering meticulously written lines and let themselves go into the kind of long winded, natural philosophising mood reminiscent of something like Jean Eustache's famous La Maman et la Putain.
Even nature itself lent a hand, with the sun coming out of the clouds at just the right moment in the first of the three episodes (The Cat Is On The Chair), during a pleasant summer lunch in the garden of a house owned by Patrick, a university lecturer and his wife, Marion, who are hosting Patrick's colleague Ugo and his long lost friend, Jean-Benoit, who is a professional soldier.
In the second episode, The Mouse Is Under The Table (which was shot first), Anne-Marie and her daughter, Ludivine, have an old friend, Diana, and her partner, Bernabe, for dinner at home, after which they all watch at an Apichatpong Weerasethakul DVD and have quite a few things to say about it.
Finally, in The Monkey Is On The Branch, four girls - Hilary, Perrine, Nathalie and Anne - have dinner together, discussing once again the same topics from a different perspective, after which, there comes a final occult twist leading to the Antichrist theme. To the credit of Puiu and his cast, beyond Solovyov's complex rhetoric, there is, in each case, a distinct study of characters often combined with ironic conflicts and rivalries, personal as well as intellectual, that are kept under control.
The amazingly flexible camera and sound work are of course essential to create the illusion that the viewer is eavesdropping on actual, authentic conversations, but above and beyond everything else, there is this team of unknown performers who, in what sounds like a condensed Mike Leigh pre-shoot session, had just three weeks to work out with Puiu the script in all its details and to perform it on camera (each of the episodes took three days to shoot). And yet, they rarely put a foot wrong, if at all.
Production company/sales contact: Chantiers Nomades, com@chantiersnomades.com
Producers: Chantiers Nomades, Cristi Puiu
Cinematography: Luchian Ciobanu
Editors: Dragos Apetri, Thomas Johannsen
Main cast: Ludivine Anberee, Marion Bottolier, Ugo Brossot, Anne-Marie Charles, Anne Courpon, Perrine Guffroy, Hilary Keegin, Nathalie Meunier, Bernabe Perrotey, Jean-Benoit Poirier, Diana Sakalauskaite, Patrick Vaillant