Dir: Danis Tanovic. India-France-UK. 2014. 90mins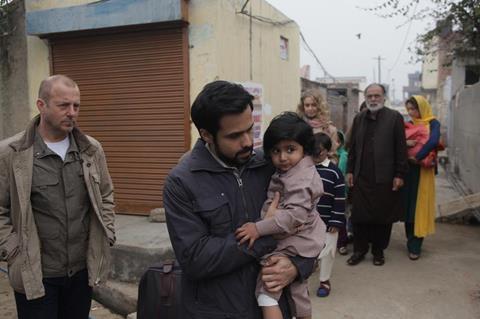 When Danis Tanovic was first told about tainted infant formula food being sold to developing countries, he thought this is an old story that had been dealt with long ago. Eight years later - as his film comes out - it seems the practice still goes on, despite all the international scandals that have erupted in the meantime and the penalties imposed on the producers in several cases. That profit is prized over human lives is no longer news, and had Tanovic brought in a star or two to deliver his message, he might have had another Imposter on his hands to draw the world's attention for brief while. As it is, his film will certainly go from one festival to another, get a modest distribution here and there before reaching its destination on late night television. It deserves better.
Tanovic, whose sensitivity to corruption in any form has led to create a political party in his own country, Bosnia, is probably just the right person to deal with such a story.
Told in retrospective, as if by a production team similar to the one that stood behind Tanovic himself, this is the story of Ayan (Emraan Hashmi, star many Bollywood blockbusters), a modest Pakistani salesman of baby food who can't make a decent living out of the local products he peddles, only because they lack the glamour and reputation of the foreign imports. Goaded by his wife, Zainab (Geelanjali), he offers his services to one of the lead importers in the country. He is accepted, quickly tutored in the best manner to put the company's products on the market and soon learns that glamour and reputation have their price - free gifts and bribes to doctors, nurses, pharmacists and anyone who can help sales, not to mention, as one character puts it in the film, that every Pakistani mother feeds her baby Western food, hoping that it will grow up to be a Westerner.
But when one of the rare honest doctors, Faiz (Salyadeep Misra) tells him the formulas he is selling are deadly, and that in contact with polluted water (which is standard in many developing countries) it causes diarrhea and dehydrates the babies to death, Ayan is shocked enough to resign from his job. He takes all the documents proving he has been instructed by his employers that as long as sales go up, corruption is not an issue, and hands them over to the World Health Organisation's local agent (Maryam D'Abo). Through her the story comes out and Ayan is now a public enemy, not only of the company he had worked for but also of every single person who had ever accepted a present or cash money from his hands.
Tanovic, whose sensitivity to corruption in any form has led to create a political party in his own country, Bosnia, is probably just the right person to deal with such a story. In a straightforward, no frills manner, he plunges ahead into the facts, and if he lingers every once in a while on the chiseled features of his female star, he is far more concerned with the documentary footage on the emaciated kids fading away in hospitals and scandalised by the real culprits in this case, the multi-national producers of baby food, who shamelessly concede their product is at fault, but will assume no responsibility.
And then there are all the other partners in crime, from the insignificant country doctor to the highest medical authorities in the respective countries, who are only too familiar with the facts but will do nothing about them, for a price. Whether Ayan is a reliable witness or not is beside the point in this case, the food is contaminated but no one seems to care enough about that little matter.
Production companies: Sykhia Entertainment, Cinemorphic Productions
International sales: The Match Factory, www.the-match-factory.com
Producers: Prashita Chaudhary, Kshitji Chaudhary,Guneet Monga, Anurag Kashyap, Andy Paterson, Cat Villiers, Cedomar Kolar, Marc Baschet
Screenplay: Danis Tanovic, Andy Paterson
Cinematography: Erol Zubcevic
Editor: Prema Saigal
Production designers: Rachna Rastogi, K.K.Murlidharan
Music: Pritam
Main cast: Emraan Hashmi, Geetanjali, Danny Huston, Khalid Abdalla, Adil Hussain, Satyadeep Misra, Maryam D'Abo, Heino Ferch