Dir: Steve Loter. US. 2014. 76mins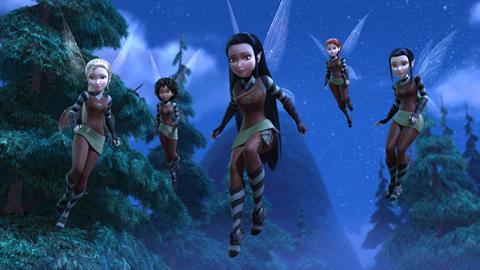 Tinker Bell gets title billing in DisneyToon's sixth feature-length visit to Pixie Hollow – the second to be released this year - but her friend Fawn (voiced by Ginnifer Goodwin) is the real star of this show. In an adventure aimed unapologetically at the under-sevens, chatty fairy Fawn's love for animals leads her to befriend a sleeping giant called the Neverbeast, plunging her hamlet into peril.
What is surprising, given its very young target audience, is the tension of Neverbeast's climax.
Unlikely to attract any Bob the Builder crossover crowd, Tinker Bell's girlie audience has been tried and tested and is likely to remain true to this iteration of the formula – Neverbeast heads straight to video in the US market but has a Christmas theatrical run in the UK and other markets. Tinker Bell, the Peter Pan prequel series, is no feminist fairy manifesto, rather a purply-pink powder-puffball of predictability, set in the primary-coloured hamlet of Pixie Hollow that is awash with bunnies and songbirds and ruled by a shimmering Queen Clarion (the pleasingly world-weary voice of Angelica Huston).
While some cynical parents might suspect that Fawn suffers from verbal continence issues, children will see her as a charmingly chatty fairy who loves animals and wants to heal their every woe. Fawn's big heart is constantly leading her into trouble, especially when she secretly nurses an injured young hawk back to health and it wreaks havoc across Pixie Hollow. Fawn's actions set her on a collision course with the fairy Scout police, led by the impatient Nyx (Rosario Dawson). Fawn has to promise Queen Clarion that she will not endanger the hamlet any further.
Fawn's determination to be good is challenged, however, when she chances upon the mute Neverbeast, which has awoken from its slumber and holds the fate of Pixie Hollow in its hands.
The all-action fairy Scouts are the guardians of Sleepy Hollow and it's a little disappointing that these athletic, achieving girls are set up to thwart Fawn's good-heartedness. Equally, the token males of Pixie Hollow inhabit a zone beyond emasculation: one is shown on a treadmill, while the other is a campy librarian. With its chatty, haplessly-beige heroine Fawn, Tinker Bell And The Legend Of The Neverbeast may be an all-female affair, but it's not exactly set up as a bandeau-burning manifesto for the under-sevens.
What is surprising, given its very young target audience, is the tension of Neverbeast's climax. Although the giant, mute monster Gruff is friendly, it is also more than a little intimidating, and an electrical storm which threatens the very existence of Pixie Hollow seems likely to prompt howls of horror from the younger end of a very young crowd.
All ends well in Pixie Hollow, however, as might be expected, and Tinker Bell And The Legend Of The Neverbeast is competently executed without being technically groundbreaking. The score blends in well with the blandly sweet-natured environment of Tink and her team; the franchise has found a safe pair of hands in director Steve Loter.
Production company: Walt Disney Studios Motion Pictures
International sales: Buena Vista
Producer: Michael Wigert
Music: Joel McNeely
Production deptartment: Rsehmi Balachandran, Navneet Verma
Editor: Margaret Hou
Main cast: (voices) Ginnifer Goodwin, Rosario Dawson, Lucy Liu, Angelica Huston, Mel B, Mae Whitman