Helena Bonham Carter and director SJ Clarkson will be in Berlin to promote Toast, an adaptation of UK food writer Nigel Slater's memoirs of his childhood, produced by Ruby Films.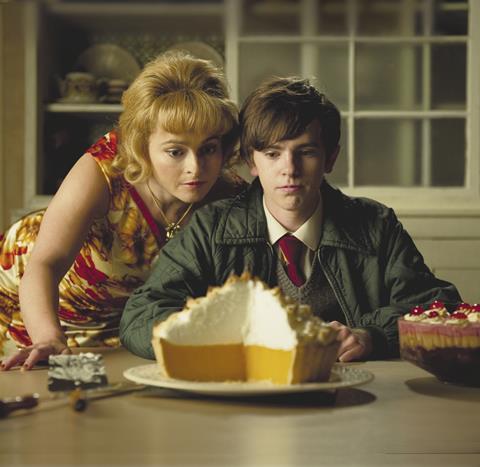 Synopsis: Based on UK food writer Nigel Slater's best selling memoir about growing up in sixties Britain
Director: SJ Clarkson
Writer: Lee Hall
Producers: Faye Ward for Ruby Films. Alison Owen and Paul Trijbits executive producing.
Cast: Helena Bonham Carter, Freddie Highmore, Oscar Kennedy, Ken Stott
Financing: BBC Films, Lip Sync, Screen West Midlands
International sales: K5
Distributors: UK & Canada (Momentum/Alliance), Australia (Transmission), France (UGC), Benelux (Lumière), Romania (New Films International), Middle East (Falcon Films), Taiwan (Applause Ent), Singapore (Golden Village Ent), Hong Kong (Golden Harvest/ Panasia), Airline (Jaguar Distribution).
Country of production: UK
Filming locations: in and around Birmingham, UK
Status: completed
Release date: Already screened on the BBC in the UK, will feature at the Berlin Film Festival as a special gala screening and in the Culinary Cinema section.
From lemon meringue pies to spaghetti bolognaise, food is at the heart of Toast, a feature adaptation of UK food writer Nigel Slater's memoirs of his childhood growing up in 60's Britain.
So it is appropriate that the film will feature in the Culinary Cinema section of the upcoming Berlin Film Festival, followed by a dinner for 200 people cooked by a Michelin starred chef with food inspired by the film.
"[Berlin festival director] Dieter Kosslick loves the film and is a real foodie himself, so he has not only given it a slot in the culinary section, but we also have a red carpet out of competition gala slot as well," explains Carl Clifton, who is handling international sales on the film for K5 and will be hoping to lure more buyers in at the EFM in Berlin.
The project began life when UK production company Ruby Films bought the rights to Slater's best selling memoirs of his childhood after it was published in 2003, bringing Billy Elliot writer Lee Hall onboard to write the screenplay.
The story follows a young Nigel (shared between British actors Oscar Kennedy and Freddie Highmore) dealing with his own sexuality, the arrival of a new stepmother (played by Helena Bonham Carter) and his overbearing father (Ken Stott) as well as charting his journey towards becoming one of the UK's best loved food writers.
Toast is the feature directorial debut of SJ Clarkson, whose television work includes Heroes and Ugly Betty, and who producer Faye Ward describes as "one of the best directors I have worked with."
"She has a fantastic vision and was able to really inspire the crew into getting the best out of them," adds Ward, who started out as Alison Owen's assistant at Ruby Films over 10 years ago, and for whom Toast is her first solo producing project, with Owen and Paul Trijbits executive producing.
So has it put her off? "There was one moment when it almost did, but no! I've been producing as a co-producer on Ruby for a long time, so it seemed exactly the right time to go it alone. Plus, the shoot went really well and on the whole everything we planned happened," she laughs.
The film is set in Slater's home town of Wolverhamtpton, and after a pre shoot reckie, the team were clear that for the film to be authentic, it had to shoot in the region. This was boosted by investment from regional screen agency Screen West Midlands, with shooting taking place in and around Birmingham last July, with locations ranging from a disused Victorian bank to the city's University.
Toast was part financed by the BBC, who screened it as a one-off drama in the UK over Christmas, to an audience of over 6 million viewers. Internationally, it is being sold as a theatrical feature, with deals already done in a number of territories on the back of a promo trailer (and slices of lemon meringue pie in the K5 office) at the AFM in November.
Helena Bonham Carter, who plays Slater's stepmother, will be attending Berlin for the gala screening, a matter of days after the BAFTAs, where she is hot favourite for the best supporting actress award for her performance in The King's Speech.
"Helena is certainly a pull and a draw for buyers, and the fact that she is BAFTA and Oscar nominated is hugely helpful. She is just so well respected and loved" says Clifton.
But with references to exclusively "British" food such as spam, Fray Bentos pies and jelly, does Ward believe it will have enough international appeal for buyers?
"I do completely, because it's a story underpinned by food and everyone loves food and the delight of how food evolves."
"Everyone everywhere loves food, and traditionally, food movies tend to do well. Uplifting stories about kids coming of age and triumphing against the odds are also very popular so it taps into that," adds Clifton.
Next up: Ward is teaming up with SJ Clarkson again on a TV series and two film projects, as well as developing the Brit List winning script Sex Education for BBC Films, with Misha Manson-Smith attached to direct. Shooting is due to take place in June.