Dir: Xavier Dolan. France-Canada. 2013. 102mins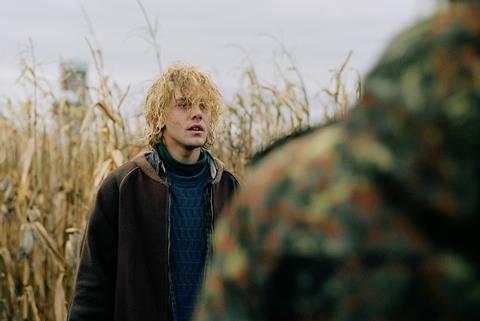 At the ripe old age of 24, Canada's cinematic enfant prodigue, Xavier Dolan, moves away from the 'impossible love' trilogy of I Killed My Mother, Heartbeats and Laurence Anyways, and into genre territory with this quirky, kinky, homophobia-themed drama of deceit and repression. Not for the first time, the film is an all-in wrestling match between self-indulgence and oddball delight, with plenty of fuel for both fans and detractors.
The power play and submission-domination switchbacks that take up the rest of the film's running time are deftly managed for the most part.
Distribution action is likely to be lukewarm outside of Canada and Francophone Europe, where Dolan has built up a strong arthouse following. But Tom should at least fare better than the three-hour Laurence Anyways, simply because it's a more compact story that fits into more recognisable slot, as an arthouse take on the something-strange-in-the-woodshed thriller.
On the plus side, the story does something fresh with the theme of homophobia, bringing home the daily threats and need for subterfuge that homosexuals experience even in supposedly 'advanced' nations like Canada via a black-comedy-tinged tale of a gay Montreal urbanite who travels to Quebec's macho-culture agricultural hinterland for the funeral of his lover – who never came out to his mother.
Based on a stage play by Michel Marc Bouchard, who co-wrote the script with Dolan, Tom At The Farm betrays its origins in some overly pretty dialogue and a few scenes (like a tango dance in a barn) where you can practically read the stage directions. And Dolan's decision to take the lead role of Tom himself is a risky one: there's a dose of self-consciousness in the persona he transmits that detracts from the emotional impact of the story.
Another quirk that eventually tips over into self-indulgence is the way Dolan uses Gabriel Yared's big, solemn orchestral soundtrack. It's intriguing trick at first, giving the film a much darker tone than the script alone could manage, and squeezing some of the mannerism out of the dialogue. But it's kept so high in the mix that it soon becomes wearing – just like the Frida Boccara French-language version of Windmills of My Mind that accompanies Tom's arrival at the farm – ravishing at first, but held for one verse too long.
An androgynous post-punk-goth hybrid with messy blonde-dyed hair, Tom is clearly out of place out here in the endless patchwork farmlands. At first we don't know what he's doing on a cattle farm that is clearly unfamiliar to him, or why he lets himself into the house with a key he finds on the porch. Soon enough we work out that he's here for the funeral of Guillaume, his twenty-five-year-old lover, and the son of lean country widow Agathe (Roy, deliciously kooky).
She lives on the farm with Guillaume's muscular, borderline psychotic brother Francis (Cardinal). Francis knows all about Tom's relationship with Guillaume, but Agathe doesn't – and Francis has invented an imaginary girlfriend, Sarah, to keep mum happy. With a mixture of physical violence, psychological coercion and homo-erotic domination, Francis forces Tom to stick to the story, and to prolong his stay at the farm, ostensibly to comfort Agathe with a version of her son that, in the end, the brother seems to need more than the mother.
The power play and submission-domination switchbacks that take up the rest of the film's running time are deftly managed for the most part, and keep us guessing as to just how gay Francis' surface homophobia really is, and how much Tom is a willing, Stockholm-syndrome victim of a captor who is, to be honest, pretty hot. But in the end, for all the plot tension and genre tastiness –underlined by some acidic colour photography and lighting that plays up sickly yellows and purples – there's just something a little too mannered about the exercise.
Production company: MK2, 8290849 Canada
International sales: MK2, www.mk2pro.com
Producers: Xavier Dolan, Nathanael Karmitz, Charles Gillibert
Executive producer: Nancy Grant
Screenplay: Xavier Dolan, Michel Marc Bouchard
Cinematography: Andre Turpin
Editor: Xavier Dolan
Production designer: Colombe Raby
Music: Gabriel Yared
Main cast: Xavier Dolan, Pierre-Yves Cardinal, Lise Roy, Evelyne Brochu