Dir/scr: Stuart Beattie. Australia. 2010. 103 mins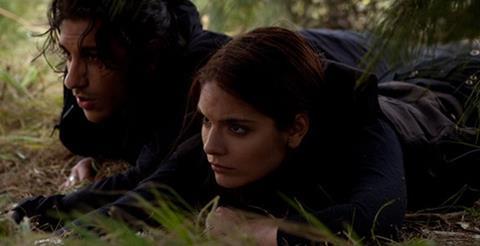 This is a major surprise — a defiantly Australian teen action movie with all the commercial punch and power of a Hollywood blockbuster. Top Aussie-born screenwriter Stuart Beattie (Pirates Of The Caribbean, Collateral, 3:10 To Yuma) not only supplies the careering script, he also debuts here as director, flexing some impressive muscles.
Adapted from the hugely successful 1993 'young adult' novel by John Marsden that began a seven-book series sold throughout the world, Tomorrow is a movie franchise waiting to happen. If the Australian box office is strong when it opens Sept 2 — and the buzz is big — expect wide international distribution, especially in the States and Europe, plus talk of a sequel.
This is breathless action and great stunt work not seen in Australian movies since Mad Max
Beattie's young cast of eight principals are impressive in roles that require significant development before and after the critical plot device of the series — the overwhelming sea-and-air invasion of the entire country by a carefully non-specific Asian army while the friends are spending the Australia Day long-weekend holiday in the bush. "Pass the Vegemite", says one before massed warplanes fill the moonlit sky above. Returning to their township, they discover death and mayhem. Their families have been herded viciously into an improvised internment camp. "We have to start acting like soldiers," demands Ellie (Cailin Stasey), the emerging leader of these teen guerrillas; and, sure enough, they start killing an unending supply of the shadowy enemy.
Aimed squarely at a teen-to-early-20s multiplex audience, the adventure will entertain family groups who must accept a modicum of graphic violence and the occasional reminder that some of these 16/17-year-olds are sexually active. Beattie gets maximum fire power from an around-$A30m budget — big by local standards. Warplanes destroy buildings; a bridge collapses spectacularly; multiple cars, racers, industrial trucks and petrol tankers speed, fly through the air, crash and massively explode at every opportunity. This is breathless action and great stunt work not seen in Australian movies since Mad Max and the '70s genre flicks celebrated in the 2008 documentary Not Quite Hollywood.
Where the multitude of well-equipped Asian storm troopers come from is unexplained beyond a radio broadcast that quotes a 'Colonel' saying their aim is to level the wealth of 'The Region' — the crux of Australians' fear of 'The Yellow Peril' ever since Chinese joined the 1850s Gold Rush. Perhaps to balance this, and to ease the way into Asian markets, one of the key gang members is Lee (Christopher Pang), son of the town's Thai restauranteurs, and he does get Ellie in the end.
Camerawork (Ben Nott) and editing (Marcus D'Arcy) are first rate; the soundtrack rumbles with massive explosions and stirring genre music (Johnny Klimek and Reinhold Heil); there are some excellent modelling and special effects. Beattie the established writer supplies many thrills. Beattie the tyro director will definitely be back — so, perhaps, will another Tomorrow.
Production companies: Ambience Entertainment, Omnilab Media, Paramount Pictures
Aust/NZ sales: Paramount
International sales: TBA
Producers:Michael Broughen, Andrew Mason
Executive producers: Christopher Mapp, Matthew Street, David Whealy
Based on the novel Tomorrow, When the War Began by John Marsden
Cinematography:Ben Nott
Editor:Marcus D'Arcy
Production designer: Robert Webb
Music:Johnny Klimek, Reinhold Heil
Website: www.twtwb.com
Main cast: Caitlin Stasey, Rachel Hurd-Wood, Christopher Pang, Andrew Ryan, Deniz Akdeniz, Ashleigh Cummings, Phoebe Tonkin, Lincoln Lewis