Dir: David Jacobson. US. 2013. 91mins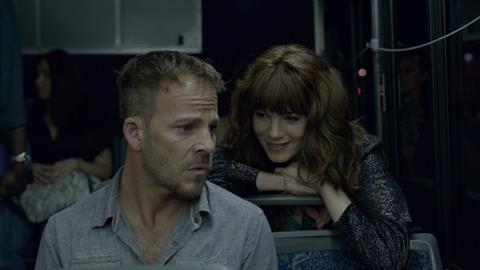 An elegantly dreamlike drama that may feel too familiar and low-key to really break-out, David Jacobson's ambitious and impressively performed film is worthy of generous attention, not least thanks to a charismatic and thoughtful performance by Michelle Monaghan who seems to be able to balance big-budget mainstream Hollywood fare with challenging indie work, and just gets better and better.
Despite being deliberately oblique and unstructured at times, Tomorrow You're Gone is an intriguing and absorbing film.
While director David Jacobson (who made Down In The Valley) feels slightly constricted by Matthew F Jones's rather formally structured screenplay (based on his own novel), he gives the film an edge thanks for lustrous cinematography by Michael Fimognari and an atmospheric jazz score, which help give the film its rich and dreamy quality.
The strong casting of Monaghan alongside Stephen Dorff and Willem Dafoe should help garner audience interest, which smart festival screenings could help international appeal.
Dorff stars as Charlie, just out of prison but still owing a favour to 'The Buddha' (Willem Dafoe, whose nicely delivered opening voiceover helps set the scene) that will involve a murder. Unsmiling, taciturn and distrusting, Charlie meets beautiful part-time porn star Florence (Monaghan) on a train – quite why she is drawn to him is never clear…the lure of the monosyllabic anti-hero in US indies is often a given – and when she takes him back to her flat there is a realisation by Charlie they she may offer a form of salvation.
In the best traditions of David Lynch and others the film veers between their tentative romance, Charlie heading off on his mission to kill and a series of more abstract sequences (brunettes and blondes change places and there is the hint much of what is happening may be dream or imagination) before heading towards a violent climax.
As is often the case, Stephen Dorff has looks, tats and pecs to play a tormented ex-con, but rarely veers away from a rather blank and impenetrable persona, making it hard to care for his apparently complex but actually rather plodding character. Luckily Monahan – she and Dorff, who featured together in Sofia Coppola's Somewhere, are co-producers of Tomorrow You're Gone – has charm and charisma to spare, and as she showed in the underrated 2008 film Trucker – is a bold and impressive actress. Willem Dafoe is really only there for a few cameo scenes, but he lends a deal of gravitas to proceedings.
Despite being deliberately oblique and unstructured at times, Tomorrow You're Gone is an intriguing and absorbing film, with David Jacobson a director who should be able to deliver better and better films given the right material.
Production companies: Deed Films, Echo Bridge Entertainment
International sales: Image Entertainment, cwong@rljentertainment.com
Producers: Dan March, Larry Rattner, Madeleine Molyneaux, Peter L Kaufman, Scott Donley
Executive producers: David Jacobson, Matthew F Jones, Michael Rosenblatt, Lenny Shapiro, Andrew Robinson, Holly Wiersma
Co-producers: Michelle Monaghan, Stephen Dorff, Christine Sola
Screenplay: Matthew F Jones, based on his novel Boot Tracks
Cinematography: Michael Fimognari
Editor: Stan Salfas
Production designer: Jennifer Klide
Music: Peter Salett
Main cast: Michelle Monaghan, Willem Dafoe, Stephen Dorff, Tara Buck, Robert LaSardo