Dir: Andrey Gryazev. Russia. 2012. 91mins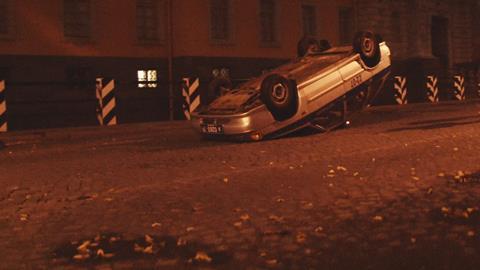 Made with minimal resources and lacking a sales agent at the time of its Berlin premiere, this low-fi, shot-on-the-run documentary about provocative Russian art collective Voina was one of the dark horses of the Berlinale's Forum selection. It turns out to be an oddly stirring, gripping and thought-provoking piece of work about a group of artists whose art-actions (which famously include tipping over a Moscow police car and painting a 60-metre phallus on a bridge just across from the Federal Security Service in St Petersburg) have exposed them to arrest and beatings, and attracted the support of fellow artists from Brian Eno to Banksy.
There's a good deal of humour in the film too.
Director Gryazev is a former Russian ice ballet champion, and he skates around Tomorrow's budgetary constraints with some verve: the film was apparently made for around $2000, most of which was spent on train tickets. The result will be a challenge for distributors, not least because Voina has always resisted any commercial exploitation of their work.
But this is a surprisingly powerful document that deserves to be seen not only on the Internet – where footage of the collective's performances has already been viewed by hundreds of thousands of people worldwide.
To make Tomorrow (Zavtra), Gryazev basically joined the collective, moving in with Voina's ideologue, the bear-like Oleg Vorotnikov (or Vor) and his slight but feisty wife Natalia Sokol (aka Koza), the group's chief coordinator, in the apartment they shared (before their arrest) with their two-year-old son Kasper and an ever-changing group of other art activists. In footage that has a grainy phone-shot quality we see members of the group shoplifting (the source, it seems, of most of their provisions, and even Kasper's nappies), pissing on SUVs, reciting poems by Mayakovsky, jumping on top of parked cars, and planning the 'flipping over a police car' action.
But this is no hagiography; group leader Vor has an arrogance to match his vision and courage, and his relations with Koza (who gives as good as she gets) are often stormy. Perhaps the most unsettling but also involving aspect of the film is the presence of Kasper, who participates (mostly from the relative comfort of a toddler backpack) in all the group's actions.
In a demonstration sequence towards the end in the course of which both parents are arrested by St Petersburg police we're torn between unease at his parents' exposure of a child of this age to police violence, shock that the police could manhandle a parent carrying a baby, and sympathy for Koza as she has her son torn away from her and is thrown into the back of a police van. And it's this emotional and ethical roller-coaster that makes Tomorrow more than just a dutiful record of the actions of a group of rebellious anti-establishment art prankster.
In a way the amazingly good-natured Kasper, who we see learning to turn a chair over just like daddy and his friends did with that police car, becomes the main character of the film, shifting the emphasis away from his parents' single-minded artistic rebellion, and focusing on the ultimate point of Voina's actions, which is to make Russia a better and fairer place for his generation (as the film's title hints). There's a good deal of humour in the film too, but it's generally more natural and spontaneous (and once again, often Kasper-related ) than the rather staged post-modern meta-humour of Voina supporter Banksy's own cinematic excursus, Exit Through the Gift Shop.
Production companies/contact: Andrey Gryazev, cinemacraft@gmail.com
Production, Cinematography, Editing: Andrey Gryazev