The biggest deal to emerge during the Toronto International Film Festival (TIFF) came together before the event started, which says a lot about the acquisitions scene these days.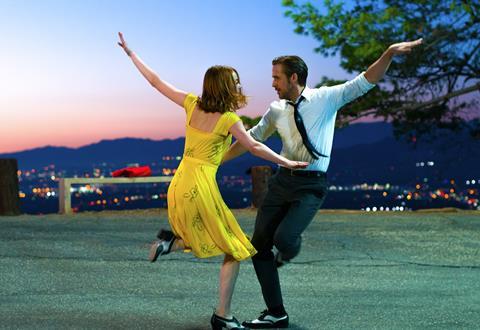 Distributors need no reminding of the treacherous terrain they occupy. Too many films continue to compete for a slice of the North American box office in a traditionally theatrical manner, only to fall short of expectations in an increasingly fractured marketplace bloated with consumer choice.
Buyers invest early in the best prospects and so Focus Features took worldwide rights off the table to Paul Thomas Anderson's upcoming 1950s London haute couture drama to star Daniel Day-Lewis in a deal reportedly valued at $35m.
CAA handled that one on behalf of the filmmakers. Similarly, WME Global and Good Universe touted an action-thriller package called Kin ahead of the festival and Lionsgate pounced on worldwide rights for what was understood to be in the mid-to-high $20m range.
"The entire creative team at Lionsgate immediately responded to Kin and we're thrilled to be in business with the Baker Brothers, along with the producers, Shawn Levy, Dan Cohen, Jesse Shapira, Jeff Arkuss and David Gross on this high-concept story," said Jason Constantine, Lionsgate's president of acquisitions and co-productions.
"Daniel Casey's screenplay has created a compelling mythology about a world filled with rich characters that has attracted an extraordinary cast of actors."
Buyers knew available Toronto titles would be small
Because the more commercial films in the festival arrived with distributors already attached, buyers knew heading into Toronto that available titles would be small.
How they would have loved to get their hands on Venice world premiere La La Land – the undisputed talk of Toronto that was named audience favourite on Sunday – or Lion, which was arguably the most popular film to receive its world premiere in Toronto and claimed the runner-up prize.
Lionsgate and TWC hold US rights to these films, respectively, and even at this relatively early stage of the calendar it would seem that at least some awards – and stirring box office returns – are theirs to lose.
"There are going to be fewer and fewer high-profile films that people will wait until the festival to screen," said acquisitions consultant Jason Resnick, whose previous roles included head of worldwide acquisitions for Focus Features and Universal Pictures.
Resnick notes that it is rare for a film that buyers have tracked to arrive at a festival as an available title.
They get snapped up early these days, which is what happened when Harvey Weinstein and his team acquired Lion in Cannes 2014 before a frame had even been shot.
In fact it was only days earlier on the Croisette that Paramount pre-bought Story Of Your Life, committing around $20m for North America and China.
That film changed its name to Arrival and was also one of the hits of Venice and Toronto – and as anybody who has seen the film will attest, it was a smart move to buy China as well.
Nocturnal Animals, another splashy Venice and Toronto premiere that has triggered awards buzz, is another example of a big pre-buy.
Universal and Focus features paid around $20m for worldwide rights in Cannes 2015 and based on the reaction to the film and its starry cast led by Amy Adams and Jake Gyllenhaal, that is looking like a very good piece of business indeed.
Given the dearth of completed must-haves screening in the 'market', the feeling going into Toronto was that the available films in the festival that lacked big names, big storylines or commercial sensibilities would be relegated to waiting around the fringes of the dance floor, while the already-established prom kings and queens hogged the spotlight.
Things did not quite turn out that way as several previously unseen films had their 15 minutes and won over critics, audiences and buyers.
Deals eventually trickled in
As usual, the US deals took time to trickle in after the two big pre-buys dominated the headlines in the first few days, but trickle in they did and continue to do.
Roadside Attractions bought North America on Lady Macbeth, one of the breakouts of the festival, while IFC took US on The Bleeder, EuropaCorp acquired US on Their Finest, and Tom Quinn and Tim League's fledgling distribution venture picked up Colossal with money from their Chinese backer
Fox Searchlight bought North America on Jackie. The studio had a first option agreement with the financiers and matching rights, so the transaction was not entirely unexpected and in Natalie Portman executives have a very strong awards contender when it remains hard to gauge how The Birth Of A Nation and its beleaguered director-star Nate Parker will fare.
Searchlight was also understood to be close to a North American deal for A United Kingdom, while Netflix was in pursuit of select rights to Message From The King and picked up the world on young Barack Obama drama Barry.
Meanwhile the process of finding a possible worldwide deal on Birth Of The Dragon has moved to Los Angeles, where screenings have been set up to galvanise a following among the press.
At time of writing, buyers expected deals to close if they had not already done so on Catfight, The Promise, Brimstone, Carrie Pilby, Tramps, The Secret Scripture and My Entire High School Sinking Into The Sea.
International sales were light as expected. The community tends to use Toronto to screen completed, often previously sold, films and may score the odd pick-up in the run-up to the serious business of AFM in November.
In the cut and thrust of the business it can be easy to forget that Toronto is first and foremost a public festival, and in that regard the 2016 edition should be viewed as a resounding success.
Cinephiles had the chance to see almost every awards season contender that has been seen so far (Venice premiere Hacksaw Ridge being one exception) and discover new works by returning or new filmmakers.
"It was a big year for us with a lot of new films coming in," said Cameron Bailey, TIFF artistic director. "Some were hits from Cannes or Venice, but there were also new films like Lion or A United Kingdom. There were films that were a little less well known like Colossal. The Lone Scherfig film [Their Finest] sold as well."