World premiere cancelled following allegations from director.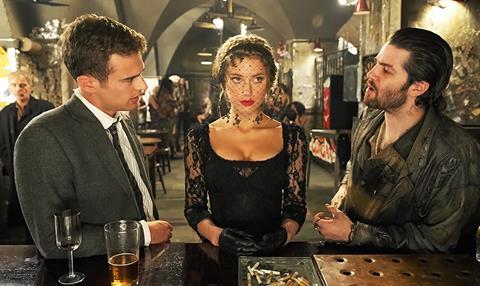 Update 18/09: 'London Fields' producers hit back after Toronto pulls film
Toronto International Film Festival (TIFF) has pulled noir thriller London Fields from its line-up and cancelled tomorrow's world premiere following reports that director Matthew Cullen had instigated legal action against the producers of the feature.
"We are greatly disappointed that TIFF decided to pull the film from the festival," the producers said in a statement. "We have always loved launching our films here, but feel that in particular case there has been an ill-considered decision made against our rights.
"It's the first time we have ever heard of a festival removing a movie from the festival due to it's [sic] imagery being deemed too provocative.
"The timing and the content of the director's lawsuit shows that it is a publicity stunt. The filing of [director] Mathew Cullen's complaint violates the arbitration provisions of his own guild, the DGA. Sadly, Mathew can't deal with the fact that he does not control the final cut of the movie.
"He was given two deadlines to deliver a 'director's cut' and missed both deadlines. His guild has rules for withdrawing his name from the picture and he missed those deadlines. The production company will vigorously oppose the lawsuit."
Earlier on Thursday festival top brass pulled London Fields from its line-up and cancelled Friday's scheduled world premiere following reports that director Matthew Cullen has instigated legal action against the producers of the feature.
A statement released by the festival said: "We have recently learned of a legal matter that has arisen between the director and the producers of the film London Fields.
"We have worked to make our festival a public showcase for creative expression through the moving image. However, with uncertainty surrounding the creative vision for the version of the film scheduled to be screened on September 18, we feel it is only appropriate that we remove this film from the Festival lineup.
"We are hopeful that this matter will be resolved positively, and that audiences will have the opportunity to see the film."
Cullen claims the film was significantly altered without his consent and is seeking to have his name removed from the project as well as $1m in compensation.
These alterations include "incendiary imagery evoking 9/11 jumpers edited against pornography, as well as juxtaposing the holiest city in Islam against mind control", according to the lawsuit.
Cullen claims these additions show that producer Chris Hanley (Spring Breakers, American Psycho) and his associates "secretly prepared their own version of the film".
"No crew or cast member signed up for this, nor did plaintiffs," the lawsuit added.
Set in 1999 London, noir crime thriller London Fields is based on Martin Amis' 1989 novel of the same name and features a cast including Billy Bob Thornton, Amber Heard, Jim Sturgess and Cara Delevingne.
Heard plays clairvoyant femme fatale Nicola Six, who lives with a dark premonition of her impending death by murder. She begins a tangled love affair with three different men: one of whom she knows will be her murderer.
In Screen's review, the film is described as "a lushly ambitious debut feature from Matthew Cullen".
Hanley's wife, Roberta Hanley, wrote the screenplay with Amis.
The film is a Hero Entertainment/​Muse Productions/​Media Talent Group/​Lipsync production. Geyer Kosinski also produced the film.
It was announced yesterday that US theatrical rights have been acquired by Grindstone and the film will be released by Lionsgate Premiere.
The impacted Toronto screenings are:
Friday, September 18, Princess of Wales, 6:30pm;
Saturday, September 19, Bloor Hot Docs Cinema, 3:45pm; and
Sunday, September 20, Scotiabank 1, 12:30pm.