TV pilots, premieres and catch-ups are becoming must-haves for film festivals. Andreas Wiseman reports on a rapidly expanding trend.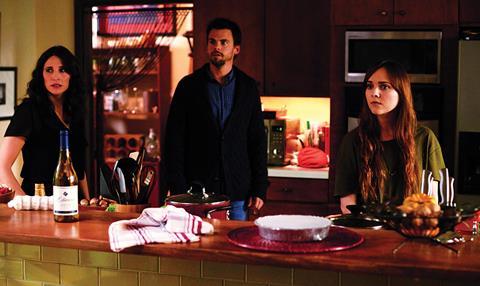 When Sundance launched Jane Campion's Top Of The Lake in January 2013, few anticipated the extent to which a stunt would become a trend. Since the debut of Campion's well-received series at the US's cradle of independent cinema, a host of established film festivals including Berlin, Toronto, SXSW, Zurich and Camerimage have launched dedicated TV strands, while Rome is also fostering a nascent TV market.
Alongside the surge in small-screen showcases, Gothenburg Film Festival has expanded its TV Drama Vision event; Latin American showcases including Bogota Audiovisual Market are hosting a growing number of TV projects; and Sundance has expanded its training and development labs to incorporate TV-specific programmes.
Toronto is the latest to reveal its TV offering, with the festival's Primetime strand giving world premieres to six red-hot shows including Everest director Baltasar Kormakur's anticipated Icelandic detective series Trapped, Netflix original Keith Richards: Under The Influence and Heroes Reborn. The festival will also have an international premiere of the first two episodes of the second series of Canal Plus' French hit The Returned.
"In the last five years we've seen a real flowering of long-form storytelling, a medium that frankly was previously looked down on by film-makers and cinephiles," says TIFF artistic director Cameron Bailey. "That's changed now. The best writers, directors and actors are migrating to TV in a much freer way. We think this is a permanent change, and that's why we launched Primetime."
Festival high
The audience and talent appeal is clear. But how useful are film festival launches to the TV industry? "When Berlin announced they would host premium TV shows as part of the Berlinale, we immediately raised our hands and said we want to be in," says Jens Richter, CEO of Fremantle Media International, which garnered significant interest in spy drama Deutschland 83 after it launched at the February festival alongside the likes of blue-ribbon series Better Call Saul, Bloodline, False Flag, Follow The Money and 1992.
Berlin's TV offering straddles the festival and market, which has a growing TV focus. "The premiere screenings were full, full, full. We had a number of buyers there and the show sold well immediately," says Richter, one of a large contingent of Fremantle executives to attend Berlin. The festival offered Deutschland 83 - which crucially has a number of local hooks - more breathing room than it might have had debuting at a TV-specific market such as April's MIP TV in Cannes, still very much the gold-standard for European TV deal-making.
"At MIP we're in the market with 50-plus shows," he says. "There's a lot going on in our own line-up, let alone with the competition. Last year there were more than 350 TV drama seasons produced in the North American market alone. If you are in an environment where you are just one of eight shows - as happened at the Berlinale - it's a pretty exclusive crowd."
One experienced film and TV buyer went further: "Many people are saying MIP needs to revamp its format. Having everyone go there for three days to do 30-minute meetings is tricky. There needs to be three or four whole days of screenings."
The prestige and attention associated with a large film festival is a big draw for TV executives. "We had a ton of press there, international and US," enthuses Richter about Berlin, which last year attracted more than 330,000 public admissions alongside around 8,000 industry attendees. "It had great coverage. We also had many of the creative and production team there. The Berlinale positioned the show in a different creative space."
That desire to be in a different environment would later encourage Italian producer Wildside to announce the Paolo Sorrentino-directed series The Young Pope, starring Jude Law, at Cannes Film Festival. "The things we'd like to screen should be of very high quality, because we want the strand to fit within the profile of the Berlinale," explains Matthijs Wouter Knol, director of Berlin's European Film Market, who has been asked for advice by a number of film festivals keen to launch their own TV strands.
Deal making
TV deals on feature films have always been an intrinsic part of the business at film festivals and markets. But festival TV drama strands are starting to turn film industry heads in a meaningful way. "I didn't see many people at Berlin who wouldn't normally come but now they're spending a little more of their time on TV," says Arrow Films acquisitions director Tom Stewart, who previously bought series including The Killing and Gomorrah for the UK. "One film buyer told me he was so impressed by the quality and amount of new TV series on show in Berlin that they ended up offering on five or six TV series."
The boom in digital platforms is driving a growing legion of online buyers and commissioners to festivals, which not only offers buying and selling opportunities but also provides fertile arenas for networking, particularly in the high-end international co-production space that attracts 'film-level' talent.
With bigger media and public profiles than TV markets such as LA Screenings, NATPE, NATPE Europe or Realscreen, and a wider content pool than dedicated TV drama events such as Series Mania or Serie Series in France, film festivals with a TV drama element can offer TV executives a high-end platform for launching, picking up and building TV shows.
While the volume and quality of TV is on the up at festivals, however, Knol is keen to downplay the possibility of TV distracting from film offerings.
"About 800 films screened at the market this year, sometimes twice," he says. "That compares with 11 series. There's a long way to go before it gets close to 50/50. I don't think that will happen. We don't want to become an entertainment market. The series I'd like to have in the next years at the EFM should have cinematic quality."
Rome, on the other hand, is this year aiming to transform its former film market into just that: an entertainment market for film, TV and video games. In the age of convergence, it may not be long before other festivals follow suit. Berlin is one of a number of festivals now looking to expand its TV offering beyond high-end drama. North American festivals have already done so. Among Toronto's Primetime line-up is the Hulu/Lionsgate comedy Casual, directed by Juno director Jason Reitman.
"We are thinking about documentaries next," confirms Knol, who also aims to increase the number of drama series debuting at the festival. "I'm keen to create a more visible platform for serial formats within the documentary programme." Ten years ago many film festivals frowned on TV. Now they can't get enough. As one buyer put it: "If Berlin can make a place for TV, I don't see why Cannes can't."
Launch pad
Toronto (September 10-20) New strand Primetime will showcase six anticipated series, including five world premieres: Hulu/Lionsgate comedy Casual, directed by Jason Reitman; Argentinian eco-thriller CROMO; Morgan Neville's Keith Richards: Under The Influence; Baltasar Kormakur's noir thriller Trapped; and Tim Kring's Heroes Reborn. Each will show between one and three episodes.
Zurich (September 24-October 4) TVision, launched last year, will this year expand from pilots and first episodes to include whole seasons, including USA Network series Mr. Robot.
Rome (October 16-23) Rome's inaugural film, TV and games market, the International Audiovisual Market (October 16-20), will launch immediately after MIPCOM with a focus on Italian drama.
Camerimage (November 14-21) The cinematography showcase in Poland will this year launch a pilots and first-episodes drama competition to highlight small-screen cinematography.
TV Drama Vision (January 28-29, 2016) The respected TV event, which runs alongside Gothenburg Film Festival, spotlights Scandinavian works in progress.
Berlin (February 11-21, 2016) Special screening berths were given to a number of anticipated high-end dramas. TV platform Drama Series Days is hosted within its European Film Market and Berlinale co-production market.
SXSW (March 11-20, 2016) This year's Episodic strand saw world premieres for Mr. Robot and Steve Carell's Angie Tribeca.