Veteran director asked about diversity at a press conference for The Martian.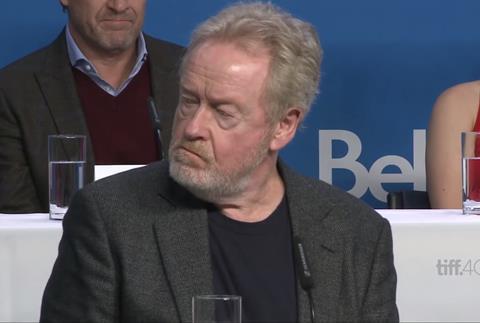 At a Toronto press conference for 20th Century Fox's sci-fi epic The Martian, director Ridley Scott was asked to reflect on the diversity in the film, as opposed to the lack thereof in his previous films, in particular Exodus: Gods And Kings.
"I've got no regrets about anything I've ever done," Scott replied.
"I was very proud of Exodus. But when they started saying, 'Well, Jeez, shouldn't Moses have been black and shouldn't the wife have been Ethiopian,' I'm going, 'I don't know, I wasn't there.'
"Therefore, I would never have got it [right] - it would have been limited."
Scott received plenty of heat at the time for his decision to fill all of the principle roles in his 2014 biblical epic with white actors, including Christian Bale as Moses and Joel Edgerton as Ramses.
He was also criticised for his response to the outcry, with reports that his message to anyone who joined a proposed boycott of Exodus was: "Get a life."
Scott's response at The Martian press conference was more measured, while still revealing his unease about addressing the issue.
It was left to his actors to lighten the mood including Michael Peña, who enthusiastically declared himself the "first Mexican in space!" - referring to his role as a NASA astronaut in the film.
Jessica Chastain also weighed in: "I'm very happy that on a crew of six people [in the film], two are women," the actress said.
The Martian centres on the perils of astronaut Mark Watney (Matt Damon), who must find a way to survive on Mars after he is presumed dead by the rest of his crew after a NASA mission goes awry and leaves him stranded on the red planet.
Drew Goddard (Cloverfield, World War Z) adapted the screenplay from the debut novel of author Andy Weir.
The film's cast also includes Kate Mara, Kristen Wiig, Chiwetel Ejiofor, Jeff Daniels and Donald Glover. 20th Century Fox are releasing the film worldwide.
Reviews out of the film's premiere screening in Toronto have been mostly positive. Screen International's review said it was "visually spectacular and consistently entertaining".