Golden Bear winner at Berlin is a debut from Romania about physical intimacy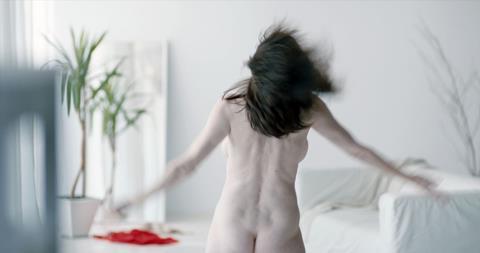 Dir: Adina Pintilie. Romania/Germany/Czech Republic/Bulgaria/France. 2018. 125 mins
The confrontational first feature from Romanian artist and filmmaker Adina Pintilie straddles the boundary between documentary and fiction. It follows the journey of three people – Laura Benson, Tómas Lemarquis and Christian Bayerlein – as they explore their need for and issues with physical intimacy.
It will connect with people whose kink is joyless self-interrogation and extreme close ups of pallid flesh
It is not clear to what extent the participants are playing themselves, slightly removed from reality by the distance of fictionalisation, and how much is real life. It's worth noting that both Benson and Lemarquis are actors, the latter best know for the Icelandic film Noi Albinoi. What is undeniable is the level of exposure, both emotionally and physically, to which they submit. Some will find it bold and thought-provoking, others will find the stripped bare intimacy a massive turn off.
Pintile, who is also the curator of the Bucharest International Experimental Film Festival (BIEFF), creates work which could as easily be categorised as fine art as cinema. As such, Touch Me Not is a picture which is more likely to find a home in gallery spaces and festivals than in a traditional theatrical release. It's appeal will be niche, to say the least, although it will connect with people whose kink is joyless self-interrogation and extreme close ups of pallid flesh.
The film unfolds in carefully neutral bedrooms, bodywork and touch therapy workshops, hospital rooms and a fetish club (there is a bondage artist acknowledged in the end credits). But in a device designed to foreground the filmmaking process, Pintilie herself is also present, largely in a monitor rather than directly before the camera; her questions leading the characters; her journey of exploration running parallel to that of the film's subjects.
Of those subjects, fifty-something Laura seems the most troubled. She appears to have a deep well of sadness and anger which, it is hinted, is connected to her relationship with her father. Through encounters with a series of sex workers, Laura attempts to come to terms with whatever it is that is making her life a misery.
She meets with a male prostitute, who masturbates to climax while she watches, inscrutable; a trans woman called Hanna, who chats conspiratorially about her breasts (named Gusti and Lilo) and a cuddly, bearded sex worker called Seani Love, who punches her in the chest and encourages her to connect with her pain and anger through a guttural howl of anguish. "I have a fetish for tears," he says, which is fortunate, because there are plenty of them.
Meanwhile, Tómas and Christian are paired together in a touch therapy workshop. Both men have arguably been let down by their bodies: Tómas lost all his hair at the age of thirteen; Christian was born severely disabled. The film does praiseworthy work when it comes to challenging accepted assumptions about what constitutes beauty and sexuality. It does so, however, through a degree of physical and emotional oversharing which some audiences will find deeply off-putting, whether it be the grimly uncomfortable-looking sex in the fetish club or the raw nerve revelations in the therapy sessions.
Like the rest of the film, the jagged score is hard work: full of primal screams, orgasmic panting and percussion that sounds as if it was played on plumbing. Meanwhile the camera is intimate to the point of intrusion, scrutinising pores and moles, minutely exploring bodies like uncharted terrain.
Production company: Manekino Film
International sales: Doc & Film International sales@docandfilm.com
Producers: Bianca Oana, Philippe Avril, Adina Pintilie
Screenplay: Adina Pintilie
Cinematography: George Chiper-Lillemark
Editor: Adina Pintilie
Production design: Adrian Cristea
Music: Ivo Paunov
Main cast: Laura Benson, Tómas Lemarquis, Christian Bayerlein, Grit Uhlemann, Hanna Hofmann, Seani Love, Irmena Chichikova, Rainer Steffen, Georgi Naldzhiev, Dirk Lange