Dir/scr: Don Handfield. US. 2012. 120mins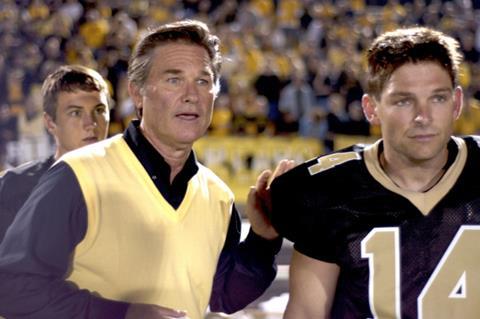 Though it owes a lot to It's A Wonderful Life - and a little to Back To The Future - indie drama Touchback is in its own right a fairly effective inspirational tale that makes relatively original use of its American football backdrop.
The big plot twist is pretty hard to swallow.
The backdrop, together with the story's small town values theme, could help Touchback find a modest audience in middle America when Anchor Bay gives the film its limited domestic theatrical launch this weekend. Video prospects should be somewhat better.
The backdrop will be more of a liability in the international marketplace, where American football movies rarely perform well.
Soap star turned film actor-producer Brian Presley (also CEO of production company Freedom Films) plays Scott Murphy, a former high school football hero who, his promising sports career cut short by injury, struggles to support his wife and kids as a farmer. When a desperate move somehow allows him to relive his high school past, Scott gets a chance to decide whether to avoid the injury and go on to a lucrative future in football or accept his original fate and count the blessings of his farmer's life.
The big plot twist is pretty hard to swallow - in this straight-faced version of the scenario there's no bumbling angel or kooky scientist to sell the timeshifting idea - and it takes a while to accept Presley as the teenage Scott. But in his feature debut writer-director Don Handfield tells the rest of the story with a steady hand, keeping the drama believable and the sentiment acceptable.
Naturalistic cinematography by David Morrison (Stephanie Daley) and an Aaron Copland-esque score by William Ross (The Tale of Despereaux) lend atmosphere and there are good supporting performances from Melanie Lynskey (most recently seen in Win Win) as Scott's wife, Kurt Russell as his high school coach and Christine Lahti as his blue collar mother.
Production companies: Freedom Films, Palo Verde, Hannibal Classics, Sakonnet Capital Partners
North American distribution: Anchor Bay Films
International sales: Hannibal Classics, www.hannibalclassics.com
Producers: Brian Presley, Kevin Matusow, Carissa Buffel
Executive producers: Paul Ross, Tony Stacy, Shannon Gardner, Derek Beumer, Michael Corso, Anthony Gudas, George Furla, Randall Emmett, Alexandria Klipstein, Patricia Eberle, Richard Rionda del Castro
Director of photography: David Morrison
Production designer: Roshelle Berliner
Editor: Ryan Eaton
Costume designer: Jane Johnston
Music: William Ross
Website: www.touchback-themovie.com
Main cast: Brian Presley, Melanie Lynskey, Marc Blucas, Kurt Russell, Christine Lahti