Dir: Brett Ratner. US. 2011. 99mins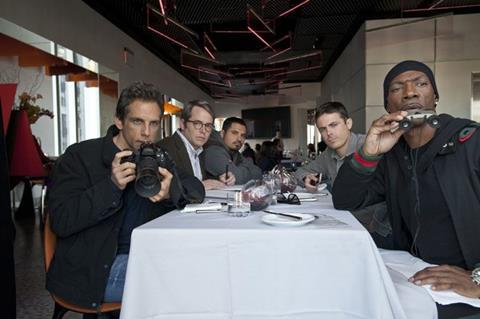 A few flashes of vintage Eddie Murphy liven up Tower Heist, an otherwise mild-mannered action comedy carried by nice-guy lead Ben Stiller. The blend of star talent isn't always smooth, but coupled with a recession themed storyline it could give this Brett Ratner-directed caper enough broad appeal to pay off theatrically and on home screens.
Stiller's genial performance anchors the film, though his comic talents are underused.
Worldwide distributor Universal - which recently dropped plans to give the film a controversial early VOD release in two US cities - opens the Imagine production in North America and several international markets over the weekend of Nov 4, just before the big holiday season films start arriving. While Murphy's pulling power is uncertain, Stiller's name and the genre should attract audiences both domestically and internationally.
In a broader, blue collar version of the Ocean's Eleven scenario, the script has Stiller's Josh, the manager of a luxury Manhattan apartment building, teaming up with Murphy's petty crook Slide and several other unlikely robbers to steal $20m from Wall Street titan Arthur Shaw (Alan Alda), who has swindled Josh and his co-workers out of their pensions. The hapless gang gets help from the FBI agent (Tea Leoni) trying to bring Shaw to justice.
Ratner, best known, of course, for the frenetic action of the Rush Hour series, lets the story unfold slowly at first before getting into the action and comedy of the film's second half. The action set pieces - involving a sports car, a skyscraper and a chase through New York's Thanksgiving Day parade - are exciting enough but the timing sometimes feels off in the more comedic scenes.
Stiller's genial performance anchors the film, though his comic talents are underused, as are those of supporting player Matthew Broderick.
Murphy, appearing in his first action comedy since 2002's I Spy, only really enters the action at the half way mark. But when he is on screen he gives the film a touch of the energy (toned down to allow for a PG-13 rating) he used to bring to the likes of Beverly Hills Cop and 48 Hours.
Production companies: Universal Pictures, Imagine Entertainment
Worldwide distribution: Universal
Producers: Brian Grazer, Eddie Murphy, Kim Roth
Executive producers: Bill Barraro, Karen Kehela Sherwood
Screenplay: Ted Griffin and Jeff Nathanson
Cinematography: Dante Spinotti
Production designer: Kristi Zea
Editor: Mark Helfrich
Music: Christophe Beck
Website: www.towerheist.net
Main cast: Ben Stiller, Eddie Murphy, Casey Affleck, Alan Alda, Matthew Broderick, Stephen McKinley Henderson, Judd Hirsch, Téa Leoni, Michael Peña, Gabourey Sidibe