Dir: Lee Unkrich. US. 2010. 102mins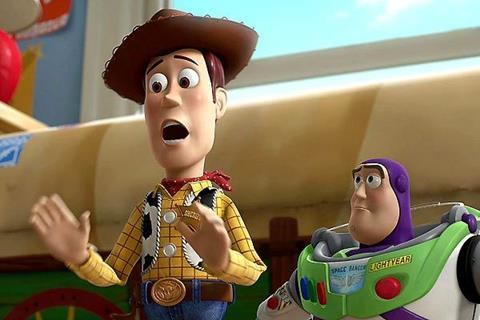 Locating a winsome blend of peppy ensemble adventure and nostalgic reflection, Toy Story 3 is the type of film adults might goad their just-as-eager children into seeing again. Coming 15 years since the first film revolutionised animated storytelling, and over a decade since the last installment, this chapter again imaginatively details some cooperative toy questing, while also movingly assaying change, and what it means for the fundamental nature of a relationship to be irrevocably altered.
The film is gorgeous and inviting and makes superb use of its 3-D.
The movie unfolds as Andy, now 18, prepares for college, his mom pressing him to make some choices about what to do with all his stuff. Woody and Buzz Lightyear prepare the gang for "attic mode," but a bit of confusion lands them in donations for Sunnyside Daycare Centre, where they're warmly greeted by other toys, including a pink teddy bear named Lotso.
A seeming dream scenario (plenty of kids to play with them) devolves into something less ideal, though, and Woody, who's been tabbed to go to college with Andy, re-infiltrates the centre to spearhead a breakout of his pals.
If Toy Story 3 on the surface seems to house some contradictory notions amongst the toys about their reasons for being, its story artfully balances a careening, involving main plot of escape with undercurrents of fear about being quickly outgrown and neglected in their relationship with Andy, something to which every adult (parent or not) can readily relate.
A couple story bits, including Mrs. Potato Head's convenient ability to glimpse through space via her missing eye, come off as contrived, but for the most part screenwriter Michael Arndt (Little Miss Sunshine) does a crackerjack job of sending up prison-break cinema, replete with all its diversions and schemes.
The film's new characters (including a Ken doll who really loves his clothes) are amusing, and nicely integrated with old favorites. And its gags, even when sometimes obvious (Buzz being accidentally switched to Spanish mode) just as frequently delight.
Visually, the film is gorgeous and inviting, and makes superb use of its 3-D. It peddles clutter that means actually something, whether it's in the form of the colorful, chaotic Sunnyside or Andy's room, in which teenage posters and mementos overlap past keepsakes, like archeological layers.
Production companies: Pixar Animation Studios, Walt Disney Pictures
Worldwide distribution: Walt Disney Studios
Producer: Darla Anderson
Executive producer: John Lasseter
Screenplay: Michael Arndt, story by John Lasseter, Andrew Stanton, Lee Unkrich
Cinematography: Jeremy Lasky. Kim White
Production designer: Bob Pauley
Editor: Ken Schretzmann
Music: Randy Newman
Main voice cast: Tom Hanks, Tim Allen, Joan Cusack, Don Rickles, John Ratzenberger, Estelle Harris, Wallace Shawn, Ned Beatty, Michael Keaton