Dir/scr: Candida Brady. UK. 2012. 105mins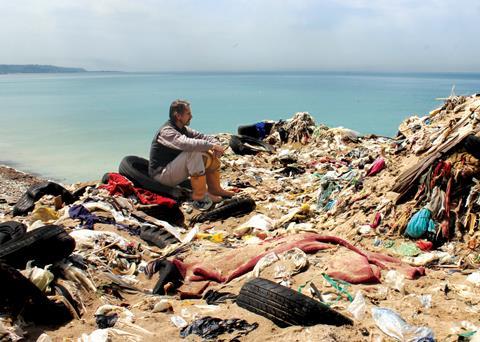 A committed, thought-provoking documentary about how the world deals with its mounting piles of garbage – or rather, how it fails to deal with them – is given a starpower boost in the arm by Jeremy Irons, who acts both as offscreen narrator and global roving reporter.
With many of his interviewees, Irons simply tuts and looks serious, or cuts in with a "This is appalling!"
Luminous photography by regular Steve McQueen cinematographer Sean Bobbitt and a lush soundtrack by Vangelis ramp up the documentary's cinematic credentials, but despite all this, Trashed is more of a prestige TV product than a theatrical number. With neither the confrontational drama of a Michael Moore doc nor the slickly edited look and sheer journalistic authority of, say, Inside Job, Trashed is a little too limited and UK-oriented in its selection of talking heads, and a little too meandering in its structure to break into the tiny cine-doc niche.
After a montage of garbage-strewn landscapes scored to ominous political-thriller music, we're into 'Land', the first of three sections about how we currently dispose of our waste. Irons is first seen striding around a 14-metre-high beachside dump near Sidon, Lebanon, whose waste is carried across the Mediterranean by waves and tides. Interviews with two UK environmental business and science experts fill us in on some of the shocking facts and figures about the sheer amount of waste the world generates, and Irons meets local activists (once more in the UK) who are campaigning against landfill sights.
The same mix of location footage, interview inserts and on-screen narrator interaction with experts and campaigners – all of them on the good, green side – is followed in the film's other four sections. 'Air' looks at the pros and cons, or rather the cons, of incineration – chief of which is exposure to dioxins – while 'Water' examines what happens when rubbish ends up in our rivers, seas and oceans, as it inevitably does.
The final section, 'Solutions', looks at recycling, anaerobic digestors that turn food waste into compost, and firms that have cut down on or eliminated packaging. It's in this final section that the film's geographical and cultural range seems particularly narrow: the proposed solutions all centre on affluent, green-thinking communities like Ludlow, San Francisco or the Napa Valley.
Trashed does two things well. One is to simply show images that act as a wake-up call: a garbage-choked river in Indonesia which locals use for drinking water, or a home in Vietnam that looks after children with deformities caused by the powerful dioxins in the Agent Orange herbicides sprayed by the US military.
Another is to give us facts in easily digestible chunks, all of which build the case that the world's present rate of garbage creation is not only unsustainable but in some cases life-threatening given our current inadequate disposal facilities. At the same time, the film's research budget feels a little thin; it would have been nice to have a little more scientific authority and a little less using pundits like the head of a UK building trade supply firm simply because he states the facts well.
And the film's main commercial calling card – its celebrity on-screen narrator – is also one of its weaknesses, as although there is no doubt about Irons' commitment to the cause, his theatrical mannerisms, voice and dress sense distract from the message.
With many of his interviewees, Irons simply tuts and looks serious, or cuts in with a "This is appalling!", and on the one occasion when he attempts to play the investigative bad cop à la Michael Moore, while grilling an Icelandic politician, we can see his heart's not really in it. Confining him to off-screen narratorial duties, like Matt Damon in Inside Job, might have been a better idea.
Production company: Blenheim Films
International sales: contact Blenheim Films, www.blenheimfilms.com
Producers: Candida Brady, Titus Ogilvy
Executive producer: Jeremy Irons
Cinematography: Sean Bobbitt
Editors: James Coward, Kate Coggins, Jamie Trevill
Art director: Garry Waller
Music: Vangelis