Dir: Joel Schumacher. US. 2011. 85mins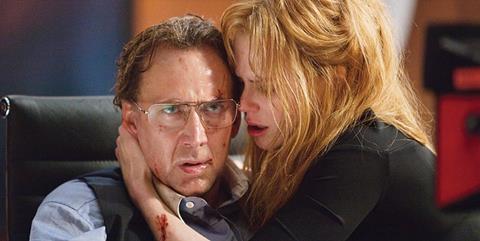 Despite all of the talent involved, astonishingly the home invasion thriller Trespass fails to work on just about every level. Directed by Joel Schumacher and with a heady above-the-title cast of Nicolas Cage and Nicole Kidman, it is a miss-firing mess of a movie that for some obscure reason secured a Gala slot at the Toronto International Film Festival.
There are moments of mild peril as Trespass heads towards a predictable climax.
With Nicolas Cage's character wearing glasses and a dull three-piece business suit you know you are going to not get any of the much-loved Cage wackiness while Nicole Kidman simply goes through the scream queen motions as a harassed wealthy housewife. A dose of B-movie sleaziness; a witty script or even a dose of ultra-violence might have helped matters, bit as it is Trespass is a pretty pedestrian affair.
The only real highpoints are the game performances by Animal Kingdom star Ben Mendelsohn and young Liana Liberato (who shone in Trust, which screened at Toronto last year) and impressive production design by Nathan Amondson, whose set of the invaded house is a character in itself.
Diamond broker Kyle Miller (Cage), wife Sarah (Kidman) and their teen daughter Avery (Liberato) live in a newly-built mansion, with still some extension work going on and a complex security system to keep them safe.
When four masked robbers dressed as police officers force their way into the house they seem to know everything about Kyle and his business. But how wrong they are – Kyle has serious financial problems and has no money let alone diamonds, and despite a whole lot of shouting (shouting and screaming feature prominently in this film) he refuses to go along with the gang's threats.
There are some half-hearted attempts at plot twists (such as one of the gang, played by Cam Gigandet, and his 'relationship' with Sarah, and in-fighting amongst the intruders) but nothing original. Every so often Sarah or Avery attempt to escape, only to get caught rather quickly.
There are moments of mild peril as Trespass heads towards a predictable climax, but nothing to set it apart from other similar films. The fact that Millennium Entertainment gives the film only a brief theatrical run on October 14 prior to its likely more appropriate life on DVD and download is perhaps telling.
Production companies: Nu Image, Winkler Films, Saturn Films
International sales: Millennium Entertainment
Producers: Irwin Winkler, David Winkler, Rene Besson
Executive producers: Avi Lerner, Danny Dimbort, Trevor Short, Boaz Davidson, John Thompson
Co-producer: Matthew Leonetti Jr
Screenplay: Karl Gajdusek
Cinematography: Andrezej Bartkowiak
Production designer: Nathan Amondson
Editor: Bill Pankow
Music: David Buckley
Website: www.trespass-the-movie.com
Main cast: Nicolas Cage, Nicole Kidman, Ben Mendelsohn, Can Gigandet, Liana Liberato, Jordana Spiro, Dash Mihok, Emily Meade, Nico Tortorella