Dir/scr: Michael Winterbottom. UK. 2011. 117 mins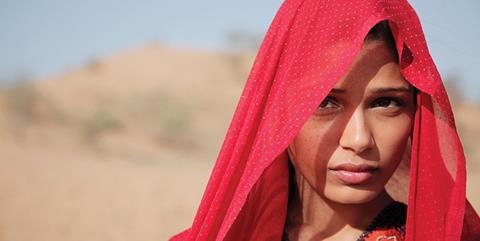 In a year of striking literary reinterpretations (Wuthering Heights, Jane Eyre etc), Trishna may be the boldest of them all as writer/director Michael Winterbottom successfully translates the dark tragedy of Thomas Hardy's late Victorian classic Tess Of The D'Urbervilles to the streets and mores of contemporary India.
Frieda Pinto has all the pouting beauty that Trishna requires as well as the awkwardness and vulnerability.
The issues of class privilege, inequality and masculine arrogance still resonate within the setting allowing the film to shake off any of the fusty connotations of period drama and connect with a modern, arthouse audience. Gorgeous cinematography and potent star performances from Freida Pinto and Riz Ahmed should also help to widen the demographic for what could be one of the prolific Winterbottom's most commercial efforts.
Fifteen years ago, Winterbottom filmed Thomas Hardy's Jude The Obscure. His faith in the author's work pays off again with a film that almost neatly divides into two halves. The first half is filled with light, hope and the giddy beginnings of a promising romance. The second half grows darker and more intense as romance turns to unbearable shame. The narrative arc of Hardy's epic is faithfully woven into this modern interpretation even although a great deal has been omitted or significantly altered.
In Winterbottom's version, 19 year-old Trishna (Freida Pinto) is the pure woman of the story. When Jay (Riz Ahmed) catches sight of Trishna in rural Rajasthan he is instantly smitten by her beauty and shy manner. The English-educated Jay is the son of a property developer and offers to find her a job at his father's hotel in Jaipur.
His intentions seem pure and the prospect of increasing the family income is an offer that she cannot refuse. He charms and seduces her in a romance that develops through the careless brush of a hand or the warm breath that intimately caresses a neck.
Trishna's faith in Jay remains untarnished by his actions and casual disregard for her feelings. She agrees to accompany him to Mumbai as his live-in girlfriend, an arrangement that becomes much more clandestine when Jay is obliged to manage another one of his father's hotels.
Trishna is infused with the spirit of India. Winterbottom is able to convey the tensions in a complex nation that respects traditional values and yet rushes to embrace all the liberties and luxuries of a booming modern economy.
Cinematographer Marcel Zyskind captures a real feel of the dust and dynamism of India offering breathtaking images of bustling city streets, contrasted with the lemony dusks and burning bright sunlight of the countryside. The look of the film alone may be enough to attract and intrigue some viewers and the soundtrack by Shigeru Umebayashi is equally beguiling.
Winterbottom has also been extremely astute in his casting. Frieda Pinto has all the pouting beauty that Trishna requires as well as the awkwardness and vulnerability. Riz Ahmed is a revelation, showing bags of romantic leading man ability in a performance of immense charm and edge. He is such a sexy, appealing figure that he almost makes us too attached to Jay. When Jay turns increasingly controlling and cruel, it feels as much a betrayal of the audience as it does of Trishna's wholehearted belief in him.
Trishna does feel overlong and starts to drift in a slightly repetitive, doom-laden second half but that makes the surprisingly steamy sex and violent denouement all the more shocking. What begins as an infatuation similar to In The Mood For Love ends much closer to the destructive obsession of In The Realm of The Senses.


Production company: Revolution Films
International sales; Bankside Films, www.banksidefilms.com
Producers; Melissa Parmenter, Michael Winterbottom
Executive producers: Andrew Eaton, Phil Hunt, Compton Ross, Shail Shah
Cinematography: Marcel Zyskind
Production designer: David Bryan
Editor: Mags Arnold
Music: Shigeru Umebayashi
Main cast: Freida Pinto, Riz Ahmed, Roshan Seth