Dirs/scr: Joel Coen, Ethan Coen. US. 2010. 110mins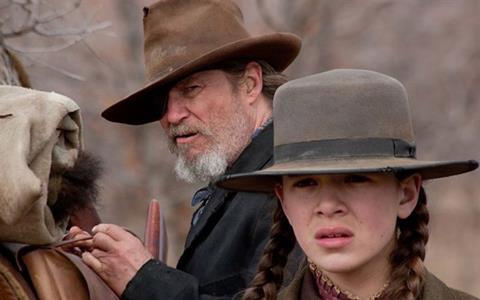 Not surprisingly, Joel and Ethan Coen's True Grit is leaner, meaner and funnier than the 1969 John Wayne Western that first put grizzled US Marshal Rooster Cogburn on screen. And even if the Coens' version lacks the edgy originality of the brothers' best work, the stylistic update of this familiar tale - together with tasty performances from Jeff Bridges, Matt Damon and newcomer Hailee Steinfeld - could still result in awards season recognition and healthy box office for the Scott Rudin-produced Paramount release.
The Coens create a patina of authenticity by restoring some of the novel's Biblical references and by having the characters speak in a stiff, archaic style.
Westerns, of course, have been a hard sell lately, but with the Coen brand attached True Grit should make a strong start when it opens in North America on December 22. Its performance after that will probably depend on how many nominations and prizes the film and its stars garner in the last couple of months of awards season.
Internationally, the Coens have always been a particularly strong draw - their last three releases all earned considerably more overseas than in North America - so the film will almost certainly get a significant financial boost when it starts its international roll out in the New Year.
The Coens' screenplay is based not on the Henry Hathaway-directed Wayne film but on the original True Grit novel by cult Western author Charles Portis. Set in the Southern US of the late 1800's, the story begins with feisty 14-year-old Mattie Ross (Steinfeld) claiming the body of her murdered father. Mattie hires boozy, one-eyed Federal marshal Reuben 'Rooster' Cogburn (Bridges) to take her into Indian Territory in pursuit of her father's killer Tom Chaney (played by Josh Brolin). And Cogburn, looking for a share of the reward on the killer's head, agrees to join forces with cocky young Texas Ranger La Boeuf (Damon), who has been chasing Chaney for another crime.
As the unlikely threesome heads off into wild country to hunt for the dim-witted Chaney and his grungy cohorts the story unfolds much as it did in the Hathaway film. What the Coens do differently is give the action a wider variety of moods: at times there's a chilly sense of the fragility of frontier life, while at other times the tone is quite broadly comical.
The Coens create a patina of authenticity by restoring some of the novel's Biblical references and by having the characters speak in a stiff, archaic style. They also make their version less of a one-man show than the Wayne film by paying more attention to Mattie and her inkling of romantic interest in La Boeuf.
However it may not be the Coens - who won multiple Oscars two years ago with No Country For Old Men - as much as the film's other talents who will give True Grit its best chances of award recognition.
Bridges (who won last year's lead actor Oscar for Crazy Heart) is often funny and sometimes quite touching in the role that won Wayne his only Academy Award. Damon also finds some shading in his role but it is Steinfeld, best known up to now for TV appearances and shorts, who impresses most with her assured performance as Mattie.
Also likely to be in the awards running is cinematographer Roger Deakins, making his eleventh film with the Coens. Deakins, an eight-time Oscar nominee who has yet to take home a statuette, contributes greatly to the film's atmosphere with some beautiful shots of the New Mexico wilderness.
Production companies: Paramount Pictures, Scott Rudin Productions, Skydance Productions
Worldwide distribution: Paramount Pictures
Producers: Ethan Coen, Joel Coen, Scott Rudin
Executive producers: David Ellison, Megan Ellison, Paul Schwake, Steven Spielberg
Screenplay: Joel Coen, Ethan Coen, based on the novel by Charles Portis
Cinematography: Roger Deakins
Production designer: Jess Gonchor
Editors: Ethan Coen, Joel Coen, Roderick Jaynes
Music: Carter Burwell
Website: www.truegritmovie.com
Main cast: Jeff Bridges, Matt Damon, Josh Brolin, Hailee Steinfeld