Dir: Levan Gabriadze. US. 2014. 82mins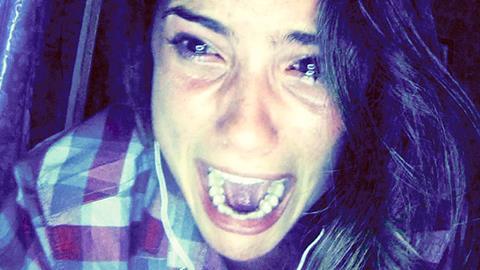 A horror film seen entirely through the eyes of the computer screen, Levan Gabriadze's ambitious and nicely chilling film that attempts to push the boundaries of a familiar 'teenagers take ghostly revenge' genre is smartly made and a satisfying watch. In the end in truth it is a familiar genre story, but the structure works and it is always intriguing.
Unfriended (formerly known as Cybernatural) is a fascinating exercise and successful as a spin on a familiar genre.
Premiering at the Fantasia film festival in Montreal, the occasionally bloody story is seen via Macs and PCs using Google, Facebook, Skype and other internet portals. Unfriended is the story of how a victim of cyberbullying gets her ghostly revenge on the group of teens she deems responsible for her suicide. A variation on the found footage genre, the story is set entirely on a computer screen as the teens interact and respond to the increasing horror. Similar in style to Walter Woodman and Patrick Cederberg's 17-minute short film Noah, which screened at the Toronto International Film Festival in 2013, it is a bold concept to carry through to feature length and is technically extremely impressive, in a similar way to Nacho Vigalondo's use of POV and video footage in Open Windows.
What we the viewer see in Unfriended is via what Blaire (Shelley Hennig) can see on her Mac laptop. She is busy Skyping and listening to music, making calls and texting all via the screen with the film eventually filled with Blaire and her five friends…as well as an anonymous lurker who they can't get rid of.
It is linked to the suicide of disturbed and bullied Laura Barns (Heather Sossaman) whose death was prompted by a video of her drunk and humiliated on a night out – dubbed 'the video that forced her to kill herself' – that had gone viral. Blaire and her friends all knew Laura, and now, one year after her death, that unknown computer stalker – the spirit of Laura – wants answers. The spirit forces the friend to watch as it manipulates them to kill themselves, recording their terror as they face up to what is happening,
The story unfolds in real time, which keeps things smart, tense and pacy, and while the performances are largely limited to starring into a camera the young cast do a good job of developing their characters. Unfriended is a fascinating exercise and successful as a spin on a familiar genre.
Production company: Bazelevs
International sales: Red Sea Media, www.redseamediainc.com
Producers: Timur Bekmambetov, Nelson Greaves
Executive producers: Adam Sidman, Alan Khamoui
Screenplay: Nelson Greave, Parker Laramie
Cinematography: Adam Sidman
Production designer: Heidi Koleto
Main cast: Shelley Hennig, Moses Storm, Renee Olstead, Will Peltz, Jacob Wysocki, Courtney Halverson, Heather Sossaman